The Caveman Guide To Training and Development, II
by

Jack Shaw
The Caveman Guide to Training and Development is written from several perspectives--as an employee, an employer, a trainer (both inside the company, government, and outside), a communicator, performance critic, and filled with relevant experiences from all walks of life.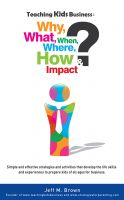 Teaching Kids Business: Why, What, When, Where, How & Impact
by

Jeff M. Brown
Simple and effective strategies and activities to develop life skills and experiences that prepares kids of all ages for business. Provides progressive thinking, ideas to implement, teaching techniques, and a solid framework to teach kids business. The use of this content will help to; encourage business conversations; help children to become more engaged in learning about business.