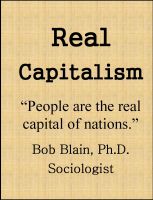 Real Capitalism
by

Bob Blain
What we know today as capitalism is money capitalism. Real capitalism is what people already intuitively know to be good economics, economics that preserves, protects and promotes the real capital of nations, its people. This book is the fruition of more than 40 years of teaching and researching sociology at the university level.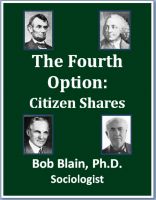 The Fourth Option: Citizen Shares
by

Bob Blain
The Fourth Option: Citizen Shares proposes that we replace our debt and interest based money supply with one that encourages all of us to share the work and share the wealth that our work produces. Read in this little book, that many of our greatest leaders, including Benjamin Franklin, Abraham Lincoln, Henry Ford and Thomas Edison, believed that government should issue, not borrow, money.
Related Categories