NCLEX-RN Exam Questions
This ebook is a collection of multiple choice questions on topics frequently covered on NCLEX-RN examinations. Question answers are provided in a separate section after each bank of questions.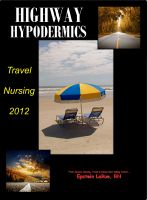 Highway Hypodermics: Travel Nursing 2012
Since 2003 Epstein and the Highway Hypodermics series has brought the most up to date information to traveling nurses, staffing recruiters, and travel nursing company executives. This edition not only covers the basics of travel nursing, but also includes independent contracting, traveling in an RV, PBDS, BKAT, JCAHO, NATHO, homeschooling, and traveling with a pet.