Spinward Fringe Broadcast 0: Origins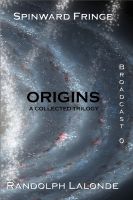 By
Randolph Lalonde
$

0.00
Rating:
(

52

reviews)
based on
Published: Aug. 02, 2009
Words: 178,930 (approximate)
Language: English
ISBN:
9780986594229
Description
In the darkest region of explored space sits a bright beacon; Freeground Station. Serving as a supply and trading post it is home to a select number of human beings that will take a desperate chance to make a difference in their end of the galaxy. - Contains the entire First Light Chronicles Trilogy. A Space Opera Adventure enjoyed across the globe by all ages. [Final Revision]
Tags
adventure
,
space opera
,
future fiction
,
spinward fringe
This book is free. How to download ebooks to e-reading devices and apps.
| Format | Full Book |
| --- | --- |
| Online Reading (HTML, good for sampling in web browser) | View |
| Kindle (.mobi for Kindle devices and Kindle apps) | Download |
| Epub (Apple iPad/iBooks, Nook, Sony Reader, Kobo, and most e-reading apps including Stanza, Aldiko, Adobe Digital Editions, others) | Download |
| PDF (good for reading on PC, or for home printing) | Download |
| LRF (Use only for older model Sony Readers that don't support .epub) | Download |
| Palm Doc (PDB) (for Palm reading devices) | Download |
Videos
The First Light Chronicles Cinematic Trailer
This is the cinematic trailer for the First Light Chronicles Omnibus by Randolph Lalonde. This book is the origin point to the best selling eBook series: Spinward Fringe.
What They're Saying About The Spinward Fringe Series
Readers from across the globe have reviewed the Spinward Fringe series in text, video and on Internet radio shows. This is a taste of their opinions regarding the Science Fiction Space Opera series...
Reviews
Log-in to write a Review
Log-in to add a Video Review
Review by: Jimmy Patterson on March 16, 2013 :

definition of epic. quality piece of writing.
(review of free book)
Review by: JT Pearson on March 11, 2013 :

Cool story, Randolph. Would make a nice series on the SciFi channel. I enjoyed your style - plenty of action, but still enough introspect. I like to take a comedy approach with much of my science fiction - not all. My story Solomon is science fiction/horror and I put that one on this sight. But I would love the opinion of another author that works in this genre on my humor style. Check out Tiny Earth Declares War on Earth that I also have here on Smashwords and let me know your opinion if you ever get the time. P.S. What the hell is going on with you and Wikipedia? They ought to chill out a bit.
JT Pearson
(review of free book)
Review by: Jimmy Patterson on March 02, 2013 :

an epic in all senses of the word. 10/10
(review of free book)
Review by: thiotes on Feb. 26, 2013 :

I found the first few books an enjoyable read, but imho the latter suffer from logic flaws and inconsistent characters, which the whole rebirth theme doesn't help.

I just finished book 7 and the series is also developing a superman syndrome(starting to feel that characters are never in any real danger)
(review of free book)
Review by: simon green on Jan. 22, 2013 :

Thought this was a brilliant book from the off. Characters are great, and fit well with the story. Would deffinately recommend
(review of free book)
Review by: chrisspeakman on Dec. 05, 2012 :

Only a quarter of the way through and I'm hooked. Well written and the characters are jumping out of the page. The other books in the series are already saved in my library.
(review of free book)
Review by: Anna Tan on Nov. 15, 2012 :

Spinward Fringe Broadcast 0: Origins is a trilogy (Freeground, Limbo, Starfree Port) about Captain Jonas Valent and the crew of First Light.

Caught for hacking into Freeground military simulations (and beating them silly) Jason Valent and his crew are offered two options: participate in a high-stakes simulation and win or face court martial for breach of security.

The trilogy is filled with high-stakes space battles, hyper space flight, betrayals, rescues, secret missions and a blossoming love story between Captain Jason Valent and his Chief Engineer Ayan Rice.

I enjoyed reading it, despite some clunky sentences and dialogues here and there.

It's space opera at one of its best and Lalonde has created believable characters who evolve with the story, drawing the reader to love and care for them... and hope they survive.
(review of free book)
Review by: Tam Winn on Sep. 28, 2012 :

This has got to be one of my favorite books on smashwords yet. I had been a little worried at first because I rarely, if ever, read science fiction. I was pleasantly relieved when I was enticed into the story within the first chapter. I loved it! Sometimes, all the talk about certain technology got a little tedious but it was kept to a minimum. It was truly an amazing read and inspiring for any new writers. Thank you, Randolph Lalonde for such an adventurous week as I read this.
(review of free book)
Review by: Blacklight Design on Sep. 02, 2012 :

This is definitely the most complete work I've read in a while from Smashwords. Without reading at first the author's statement, I could guess that here was involved a big deal of polishing and editing. This was the most pregnant impression I had reading Broadcast 0: a well finished work. Then, after I read what Mr. Lalonde has done to bring it into this shape, I realized that most of us would give up long before. Take in consideration the re-writing of eighty pages of dialogue only!
The title I found it superb and the subtitle very well inspired.
The action is fast paced and keeps the reader connected. The intricacies are revealed just at the opportune time and that makes the lecture very accessible and pleasant.
The personages are clearly drawn and strongly individualized. After the reader get to be acquainted with, he would guess who's speaking without the author's specification.
The obvious subsequent conclusion is that the dialogues are well implemented and highly personalized. Mr. Lalonde offers a very precious example of how to write a credible and natural dialogue.
Undoubtedly, the novel deserves the acquired fame and I'd love to congratulate Mr. Lalonde for his tenacity and especially for his final result.
Because of my natural grumpiness, I need to signal out a certain lack of originality but please ignore my rancorous observation and enjoy a great read: Spinward Fringe. Broadcast 0

The review was also published on the reviewer site.
(review of free book)
Review by: Robert Greenawalt on Aug. 10, 2012 :

I am hooked, this series is so entertaining and just what I believed space "life" would be. I was about 8 years old when I first picked up a sci-fi book. It was Jules Vern & the nautilus. I haven't quit yet! (by the way I was 8 in 1951) long before Ralph Lalonde was born.
This late in life along comes this upstart that writes books that I just can't put down. I thought I had read it all! Evidently not yet, I just can't wait until the next book is published! Please don't get discouraged by the jerks out there that critisize you for not writing faster! Bob G.
(review of free book)
Review by: Billie Maverick on July 31, 2012 : (no rating)
I stumbled onto this book (for the life of me I don't know what attracted me to it, At first, I thought, oh no he's a straight sci-fi writer. Which meant oodles and oodles of tech talk. So I sighed and plunged forward. After a few pages I started to enjoy the story! It was something I've never read before; very refreshing for me.

Being a writer myself, Mr. Randolph has pushed me to work harder in my craft. I will try to catch up and keep up with his work in the future.
(review of free book)
Review by: 2 AW on June 13, 2012 :

Downloaded this book and did not want to stop reading.
well worth a read
I am now going to try the next two in the series
(review of free book)
Review by: Aaron Majewski on June 03, 2012 :

This is an excellent trilogy of novellas, which forms a complete story about one Captain and his ship and crew. This apparently serves as the backdrop, or origins, for other books in the Freeground series.
The work itself is well written, with nice pacing and okay characterizations. I would recommend it to anyone who enjoys a good sci-fi as it has more emotional depth than some :)
(review of free book)
Review by: aps on May 19, 2012 :

Excellent series, well worth reading. Style has Heinlein and Niven influences. Try the first one you won't be disappointed.
(review of free book)
Review by: Philippe Baranger on May 01, 2012 :

Good book, even though few slow passage regarding the internal romance. That is not actually The Lost Fleet, but it is quite pleasant to read (and could be addictive). In addition, the epilogue makes us impatient to read the other books.
(review of free book)
Review by: B.J. Price on March 28, 2012 : (no rating)
I finished Origins last night and started into Resurrection. I'm so glad I have the whole set. The ending of Origins is mind blowing. Without a doubt, the best space opera I've read. Mr. Lalonde, thanks for making your dream come true.
(review of free book)
Review by: Joe M on March 27, 2012 :

Very enjoyable. As soon as I started reading it I was hooked. As soon as I finished it, I bought the next book.
Excellent writer! Please keep the great reads coming.
(review of free book)
Review by: max on March 21, 2012 :

Awesome book
(review of free book)
Review by: Vaughn Axling on March 04, 2012 :

Love this, I am buying the rest!! Awesome!
(review of free book)
Review by: B.J. Price on March 02, 2012 : (no rating)
15 pages into it and hooked. Did some websearching and bought the rest of the series.
(review of free book)
Review by: Luke M on Feb. 27, 2012 :

The only reason to not get this book is because it will make you want to pay for and read the sequels. You will not be disappointed.
(review of free book)
Review by: Darla Cunningham on Jan. 14, 2012 :

I really enjoyed this. A great imagination. Inspires me.
(review of free book)
Review by: Vada Cavanagh on Jan. 09, 2012 : (no rating)
Great escape SciFi. Best free book I've downloaded. Very glad to see there are is a series and I am more than happy to purchase the next one to continue reading.
(review of free book)
Review by: Maria Sokolova on Dec. 10, 2011 :

Amazing story!Great characters with dignity, pride and deep humanity!I congreatulate the autor and recommend all the books!
Looking forward the "Spinward Fringe Broadcast 7: Framework"
(review of free book)
Review by: Ronnie Coleinger on Dec. 03, 2011 :

I love good science fiction stories, and space opera stories like Origins especially please me. Well Done! I just downloaded Broadcast 2: Awaking and will begin reading it soon. Sorry for the short review, you see, I am deeply involved in reading Broadcast 1: Resurrection and simply must get back to it.
(review of free book)
Review by: Rodney Blake on Nov. 04, 2011 :

A powerful, adventurous and astrological story.
(review of free book)
Review by: William Allen Scott on Sep. 05, 2011 :

This was the one that got me started with Lalonde. Absolutely brilliant story line. I'm still telling my friends to get this one and see if they like and I finished reading it months ago. Very much draws you in and keeps you there for the long haul.
(review of free book)
Review by: Jason Sanders on Sep. 02, 2011 :

Good story with nice characters. I enjoyed it very much, it literally made me lose time. I recommend it.
(review of free book)
Review by: JackTorpedo on July 28, 2011 :

Very immersive experience. Couldn't put it down.
(review of free book)
Review by: Cory Anderson on July 04, 2011 :

This was an impressive book. Although it did not have much depth, it was a lot of fun to read. It was well written and captured the imagination. A lot of the ideas regarding the future, like how people of the future take showers, get dressed, and other mundane tasks, are unique and interesting. On to Broadcast 1...
(review of free book)
Review by: Mark Nielsen on July 01, 2011 :

This is the first independent author I've read, and thanks to B&N free book offerings I've discovered this fantastic series. The depth of the characters and the world that Mr. Lalonde creates is amazing. I've even put 2 Dean Koontz books on the back burner to finish this series. The first 'broadcast', broadcast 0 is free, how can you go wrong with that?!
(review of free book)
Review by: David N Bending on June 11, 2011 :

Totally love this book. Characters are so believable. Cannot wait to read more from this author
(review of free book)
Review by: Mike Lee on June 10, 2011 :

This series starts out good and gets better with each installment. And Mr. Lalonde doesn't just write good stories; his reviews are spot-on, and very helpful sorting wheat from chaff when readers are looking for a new book. Try this author out, chances are you'll be another fan.
(review of free book)
Review by: Frankie McClure on May 29, 2011 :

I have fallen in love with this series! So far I have only read Spinward Fringe Broadcase 0: Origins, but I plan on buying the rest of the series and enjoying every single book. I have to agree with another reviewer who said they thought they had found a lost classic, this series really does evoke a Star Trek/Star Wars feeling. Parts of it also made me think of Heinlein, the way his characters were so close to each other, and the affection between Valent and his AI Alice. I am looking forward to starting the other 6 (soon to be 7) books. Thank you Mr. Lalonde!
(review of free book)
Review by: vizax on May 25, 2011 :

I randomly found this book, while surfing for new Sci-fi reading. Instant favorite! I've blown through these books like crazy...twice (spaced a bit out of course;-) ). The creation of a new universe is something that happens quite often, but there are few universes that I'm so eager for more! The characters are compelling and always give me a good laugh. They remind me of how my friends and I act.

My Hat's off to Mr. Lalonde!
(review of free book)
Review by: Flying With Red Haircrow on April 04, 2011 :

Lalonde particularly has the gift of setting a scene which places you firmly in his universe, and from the first sentences, I was excited and pleased as the story moved along at a good clip and the writing was solid. I suppose I would describe it in a science fiction-y way, for I felt like I was suited up in space slowly observing the amazing orchestra of celestial bodies take place all around me.

Please read my full notes at my review/interview site Flying With Red Haircrow http://flyingwithredhaircrow.wordpress.com/2011/03/18/spinward-fringe-broadcast-0-origins-by-randolph-lalonde/
(review of free book)
Review by: The Scarecrow on March 28, 2011 :

I found this book to be a very entertaining read so I'm sure most Si-Fi fans will enjoy this very substantial story. I will be buying the next episode because its very good value for the price. Four stars from me is an excellent rating.
(review of free book)
Review by: Elderberry Press, Inc. on Feb. 25, 2011 :

Jack Vance once was kind enough to offer me some good advice: "Let the reader get to know your characters before you get into the action." That advice is ignored here to the stories' detriment.
A second weakness of the writing is the author's tendency to tell rather than show what happens. There is a lot of 'splainin' going on in the first few pages. We learn all about nukes and asteroids and stuff, but what we don't do is see the characters being themselves.
But if this appeals to you, then, enjoy.
(review of free book)
Review by: Trove Books on Feb. 23, 2011 :

An exciting beginning to this excellent series. Three fast-moving novellas introduce the Spinward Fringe universe and a cast of fascinating characters whose adventures will keep you eagerly clicking to the next page. Great action and intrigue, and a story that keeps surprising you until the very last page. My only warning is that if you read this free download you'll find yourself compelled to buy the rest of the series.
(review of free book)
Review by: Brandy Hunt on Feb. 02, 2011 :

** spoiler alert ** This was so fantastic. I'm slowly trolling through the rest of the stuff I have on my nook (I am a sucker for free), but the rest of the series is high on my to buy list. Especially since it ends on a cliff hanger. Got to at least get the next book to find out how it ends.
(review of free book)
Review by: scheherizade1701 on Jan. 24, 2011 : (no rating)
I cannot remember when I've enjoyed such an exciting ride. When an author keeps me on the edge of my seat breathless with action, if they can make me laugh out loud, not just laugh, but snort too, and when they actually get me teary eyed, and MAKE me feel invested from beginning to end, what more could you ask for from a writer? For me, Mr. Lalonde has achieved all of this. All I know is not only can I not wait for the next broadcast, but I've never longed for something to be a series as much as I would love to see this on the moving picture box!! This is the perfect sci-fi mix: action, adventure, techno geek speak and comedy. The characters just keep getting better.
(review of free book)
Review by: Rachel on Jan. 10, 2011 :

Loved it, couldn't put it down. As soon as I finished the first one I bought the rest of the series. Clearly I'm not alone. :)
(review of free book)
Review by: Stephen Tavener on Oct. 31, 2010 :

I read the First Light Chronicles, and was lost. Don't be fooled by the 'free' price tag; the first sample is always free, and these are seriously addictive. I defy you to read it without buying all of the Spinward Fringe series.

The writing is a curious mixture of old and new. I thought for a while that I'd stumbled upon a lost masterpiece from the Golden Age; then was brought up short by the references to quantum computers :)

Anyhow, good characters, and a cracking pace whatever they are; highly recommended.
(review of free book)
Review by: Guru R on Sep. 23, 2010 :

Just finished Broadcast 2, still loving it. After a long time a sci-fi book brings back the Startrek & star wars feel.
(review of free book)
Review by: dmf on Sep. 23, 2010 :

This was a really enjoyable book, it has compelled me to buy the rest of them. Great plot and characters, cant wait for more.
(review of free book)
Review by: Tom Mullings on Aug. 29, 2010 : (no rating)
Really enjoying the entire series. Haven't finished the final book. Hope there will be more.
(review of free book)
Review by: William McHale on June 14, 2010 :

Overall the three novellas in the original trilogy are a good first attempt, but they are a bit rough. I enjoyed these books, but they felt a little like reading a Star Trek Novel, (Not that the author cloned Star Trek, the Universe the characters inhabit is definitely the author's own), but rather in the tendency for the characters to be supremely competent to the point of being miracle workers.

Over all though, I would say the books are more than worth the time it will take to read them and I was interested enough to buy more.
(review of free book)
Review by: Dale Bell on June 09, 2010 :

Great book, I started with the free Omnibus and could not stop until I had read this and every other book in the series. Great entertainment. Keep bringing these stories on.
(review of free book)
Review by: mccdyl001 on June 06, 2010 :

One of the best books I've read in ages. Was gripped right from the start, just could not put it down. When I finished it I was so happy to see their were 5 more books available in the series I came and bought them straight away (great prices too!). Hats off to the author, you've done an awesome job with these!
(review of free book)
Review by: Dave Bonhoff on May 20, 2010 :

I was mesmerized after the first few paragraphs and could not stop reading! There is nothing I can say that others haven't already said in previous reviews.

Thank you Mr. Lalonde!
(review of free book)
Review by: Chris Keenan on May 06, 2010 : (no rating)
The first e books I downloaded, and was hooked, if your a fan of sci fi and want to immerse in a story, these are very well written, descriptive books who bring you into the story faster than you would believe. A must for your collection.
(review of free book)
Review by: Rachel D. Thompson on April 26, 2010 :

Very enjoyable story, with great characters and quite a few epic sci fi battles. I only wish that the editing was a little better--there were far too many grammatical errors for me. Often that's enough to make me stop reading a story, but this one kept me hooked right until the very end.
(review of free book)
Review by: Caleb Goodin on April 22, 2010 : (no rating)
I was in a eBook coma the whole weekend. This is well worth your time. I'm most impressed with the quality of this work. Very immersive.
(review of free book)
Review by: Jacques Begin on March 20, 2010 : (no rating)
Reading used to be something that I did not find entertaining, then I found Omnibus. The story is very exciting and the main characters are great role models for all of us. There is no doubt that I will buy The Spinward Fringe series (Thank You Mr. Lalonde for giving this ebook out for free, I probably would not have read it otherwise). To top off this great experience, Mr. Lalonde's descriptions of places, people, and technology have inspired me to draw out on paper what I picture in my mind. Thanks for the good times and see you in "The Spinward Fringe".
(review of free book)
Review by: Kelly Sheehan on Feb. 28, 2010 :

I really enjoyed reading this book, it is exactly the sort of book I love. Out of all the Sci Fi I read I enjoy space based books with some space warfare in the best, and this book has it in spades!!! It made such an impression on me I have now bought all of the Spinward Fringe books (this continues the First Light Story) and I can't wait for more!!!
(review of free book)
Review by: Guns4Hire on Feb. 26, 2010 : (no rating)
I wanted to say that I truly enjoyed this book. It very much reminded me of FM Busby's work in the Hulzein series. Really there isn't a better compliment out there than that.
(review of free book)
Review by: PDQSocrates on Feb. 01, 2010 :

Great book(s) - these warranted a visit to the tip jar! Characters you can care about and a storyline that keeps the pages turning - kept me up way too late to see what happens next. Wish I'd discovered Lalonde sooner, but happy that there are more books to read!
(review of free book)
Review by: Darryl Wilson on Jan. 08, 2010 :

An overall great read. The tech and military concepts were easy to grasp and some of the intentionally corny one liners given by the characters were hilarious.
(review of free book)
Review by: JRM34857 on Dec. 17, 2009 :

Great Book! I really enjoyed it!
(review of free book)
Review by: Martin Krischik on Sep. 01, 2009 :

This is really good, among the best I ever read. And I read a lot of SciFi.
(reviewed within a month of purchase)
Review by: Elizabeth Mock on Aug. 05, 2009 :

I've always enjoyed watching science-fiction more than reading it, but "The First Light Chronicles Omnibus" is a sci-fi trilogy of novellas that I loved reading. There's an innocence to the characters and the story initially, but through some plot twists that I never saw coming, the story ends with a big risk that yielded an even bigger pay-off. You get to know Lalonde's characters like you would any friends. Their personalities and quirks emerge the longer you spend with them and you can't wait until you get to see them again. This series is a great foundation for Lalonde's "Spinward Fringe" series. I would recommend anyone to invest in these stories and characters.
(reviewed the day of purchase)
Review by: Sylvie Lafontaine on Aug. 05, 2009 :

Sci-Fi is not usually my thing, but I loved this. I couldn't stop reading! The characters are interesting and engaging, the descriptions are fantastic, and the technology is explained in a way that doesn't alienate readers who aren't well versed in this genre. I would definitely recommend this! :)
(reviewed the day of purchase)