The Book of Deacon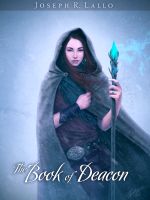 By
Joseph Lallo
$

0.00
Rating:
(

35

reviews)
based on
Published: Feb. 02, 2010
Words: 149,280 (approximate)
Language: English
ISBN:
9781452402604
Description
The tale of Myranda Celeste, a young woman orphaned by a century long war, and her chance discovery of a fallen soldier's priceless cargo. The find will change her life, sending her on an adventure of soldiers and rebels, wizards and warriors, and beasts both noble and monstrous. Each step will bring her closer to the truth of her potential, of the war, and of the fate of her world.
Tags
fantasy
,
magic
,
warrior
,
epic
,
epic fantasy series
,
dragon
,
the book of deacon
This book is free. How to download ebooks to e-reading devices and apps.
Format
Online Reading (HTML, good for sampling in web browser)
View
Epub (Apple iPad/iBooks, Nook, Sony Reader, Kobo, and most e-reading apps including Stanza, Aldiko, Adobe Digital Editions, others)
Download
Kindle (.mobi for Kindle devices and Kindle apps)
Download
PDF (good for reading on PC, or for home printing)
Download
RTF (readable on most word processors)
Download
LRF (Use only for older model Sony Readers that don't support .epub)
Download
Palm Doc (PDB) (for Palm reading devices)
Download
Plain Text (download) (flexible, but lacks much formatting)
Download
Plain Text (view) (viewable as web page)
View
Reviews
Log-in to write a Review
Log-in to add a Video Review
Review by: Robert Mäder-Kammer on Dec. 02, 2013 :

I enjoyed the world created in the books. The good author of fiction has the reader suspend reality and make the fantasy world real. I believe the writer accomplished this. My only objection is that the book should have been edited a bit more. Some of the dialogue was repetitious and did little to further the plot or enhance the characters. Also, detailed descriptions of battle after battle became a bit redundant. I'm planning on reading more of the works of Joseph Lallo
(review of free book)
Review by: Lindsay Smith on Sep. 27, 2013 :

A great read - great mixture action and mysticism, with the characters well drawn. Just downloaded the next two - can't wait to continue the adventure.
(review of free book)
Review by: James Minge on June 29, 2013 :

enjoyed the book
(review of free book)
Review by: Greg Strandberg on June 16, 2013 :

I've been seeing this book on the Amazon free charts for some time so I finally decided to download it. Well, it took me a bit of time to get around to reading it, and I regretted it because I should have read it sooner.

This is a very good epic fantasy book with characters you actually care about. The story is fast-paced and flows well. I'm looking forward to reading the next volume in the series.
(review of free book)
Review by: Ro on April 14, 2013 :

A good long read which made me jump on the computer as soon as I finished book 1 and order the next 2 books in the trilogy plus the extra book Jade. I enjoy finding authors who write such compelling stories that you just can't resist getting sucked into the worlds they create and are left craving for more.
(review of free book)
Review by: Ben Heller on Feb. 18, 2013 :

excellent book I read it a year ago my first kindle book. I still remember it.
(review of free book)
Review by: Juliet Cleary on Jan. 22, 2013 : (no rating)
Loved the book, couldnt put it down, have bought the next two in the series. BRILIANT !
(review of free book)
Review by: Debby Rubino on Jan. 06, 2013 :

Love, love, LOVED it! Really a fantastic read of such a truly original story. Cannot wait to read what's next.
(review of free book)
Review by: Frank Johnson on Dec. 06, 2012 :

Not Bad. My main concern is the book's lack of chapters, making it hard to find a place to stop. I would reccomend.
(review of free book)
Review by: C.M. Skiera on Oct. 20, 2012 :

I enjoyed The Book of Deacon. Mr. Lallo creates a vivid world and a well-developed main character; Myranda. Her motivations are straightforward and linked inextricably to the world around her. A strong-willed individual, she has strengths and flaws and the story focuses on her chance encounter with a magic artifact, and the chaos the unfolds after the event.

Mr. Lallo chronicles Myranda's growth and development with vivid detail as she encounters a varied cast of characters to help (and hinder) her arduous journey. Her dangerous travels and personal growth keep the pace relatively slow and dampen the sense of urgency somewhat, but the progression is consistent throughout the book and the tension builds along the way.

Magic plays a large role in this story and the mechanics of its use are explained thoroughly. As Myranda learns to become a spellcaster, the reader is with her every step of the way.

Other reviews have mentioned the unconventional lack of chapters and cited some grammatical errors; however, I must admit this did not detract from my enjoyment of the story. If you like a well-described, detailed fantasy world, and are curious about the inner-workings of the magic in contains, you should enjoy this book.
(review of free book)
Review by: T.R. Larson on Oct. 07, 2012 :

There are those who crave classic Epic Fantasy. You know who you are. You love to be sucked into a world steeped in war. You love to be transformed into the underdog, the down trodden. You need the classic creatures that have made High Fantasy a lasting genre. Dragons, Elves, Dwarves, Fairies, Mermaids. You need to be lead through an adventure that seems to be endless. Every page you turn brings you deeper into the world. Each page gives a little more to think about as to how such a character is going to get through this test. You are amazed at the fact that elements of the world you have entered can be shaped into physical magic.

The Book of Deacon will curb your cravings. This is classic fantasy told in a story that will give you new sights. The story begins with a small, insignificant girl. She is the outcast that many of us have felt we were, at one time or another. She is confused and alone. She comes across an artifact that will change her life.

Do you have one belief that you stand steadfast upon? Myranda does. Throughout The Book of Deacon her belief is challenged. She grows with every scene, but she trades a little of herself and her belief to do so. She begins to understand that in order for her to reach a conclusion that will satisfy her belief, she will have to sacrifice much of who she is.

The Book of Deacon will give you an understanding of how classic fantasy elemental magic works. You will train with Myranda. You will enjoy meeting true masters of magic and the personality quirks that make them the masters that they are. You will know what it must be like to expend every ounce of spiritual energy you have to manipulate materials around you.

You will also meet Myn. I am told that she is a fan favorite, as well she should be. Loyal, protective and energetic. She is, to me, a great sidekick. I hope that you will think so too.

Self publishing a series is an enormous amount of work. The author takes on many hats and must remain on a steady schedule. Joseph Lallo has produced a good first novel to introduce his trilogy. I will begin The Great Convergence when I am done posting my review for The Book of Deacon. I recommend this book for all readers and hope that you will feel that you need to read the next installment of the trilogy as much as I do.
(review of free book)
Review by: Jeff Gunzel on Oct. 02, 2012 :

This is a fantastic read. The book is well paced and the characters are believable. Can't wait to dive into the second.
(review of free book)
Review by: deb groover on Aug. 30, 2012 :

What a wonderful book. It carries the mind to a place of wonder and restores a feeling of hope . I cannot wait to start book 2
(review of free book)
Review by: Rick Petrey on Aug. 28, 2012 :

marvelous read. I am looking forward to the next
(review of free book)
Review by: Charles Kravetz on Aug. 23, 2012 :

A great story for young and old.

Myranda Celeste is an orphan of war. Her home town was destroyed by war. She has grown up in the middle of a war. Cold and hungry, she happened across a fallen soldier and his cargo. Her life began to change immediately, forever. Sometimes a find that is stumbled upon has that ability to change our lives.

I would really like to thank Joseph Lallo for writing such a fine book. This is the first in the series, and I already purchased the second. I found this to be an easy reading, well written book. The author is able to keep this story rolling along, at a speed that most readers will be able to follow. I read the entire book in two days, not really wanting to take any breaks. I really wanted to know what happened to Myranda, the lead character.

This book, for me, was great entertainment. The author has done a really fine job, inventing a world around the story that could be the world of the future. It does leave room to dream about such things, although I would hope the world never goes to war again.

I would easily recommend this book to anyone, young or old, that enjoys fantasy. It takes place in a world that could easily be the past, future, or today. It does give me room to think about the possibilities of such great wars happening today.
(review of free book)
Review by: Readergirl78 on Aug. 05, 2012 :

I have to honestly say that I wouldn't have stopped to read this unless it was marked "free" on my ebook. I got it for free awhile ago and with nothing to read but this, I sat down and started to read. Within about the first 10 pages, my attention was captured and I eagerly read the WHOLE thing in about 1 1/2 days (over 800 pages on my nook). The book was so good in fact that I immediately purchased the next one in the series right after I had finished and the next one after that. Almost 2700 of pages that kept my attention the whole way through..which is quite a feat for this type of a book. I have props to Mr. Lallo for creating a great Trilogy and hope to read something else from him that is along these lines! Only problem is...it ended! I would love to read more about the heroes in this trilogy! I am copying this exact review in the other books in the series as well.
(review of free book)
Review by: Sc Crain on Aug. 01, 2012 :

I chose this book as something different to read and to see if it would be something my 12 year old daughter would enjoy as well, she loves the Percy Jackson series so I thought this might be up her alley. I loved it! Could not put it down! Had to actually buy my first online books on smashwords so I could read the rest of the trilogy! It was more than I expected and was pleasantly surprised! It is fast paced, the characters have a good amount of depth, though I would have liked to know more about Leo/Lain, and you can't help but sympathize with them and their plight. I plan to charge up the iPad and hand it off to my daughter and see what she thinks next....we shall see!
One word of advice, make sure you have the next two books before you finish this one, or you will regret it!
(review of free book)
Review by: Joshua Wheeler on July 25, 2012 : (no rating)
Bah...android phone cut me off. As I was rambling...and nearly finished!
I will gladly support this author's efforts and hope he goes far!
(review of free book)
Review by: Joshua Wheeler on July 25, 2012 :

I started reading this book on a whim at work one day. The principle reason I chose this particular book is due to the excellent rating and reviews. By the way...stop putting spoilers in the reviews!!!
After I started reading it I couldnt tear myself away. As soon as I got home I downloaded it to my Nook and finished it. Afterwards, i promply decided to buy the second and will likely buy the 3rd in the trilogy. I dont know how Joseph Lallo doesnt have a book deal yet.
Im an avid fantasy reader and have rarely come across such talent. Illu happily support this author and hope he is incredibly
(review of free book)
Review by: Lynn Carroll on May 21, 2012 :

I loved this book. I read the first and then immediately went to see if there was another one. I hesitated at first due to the short description. I don't think it does the book justice.
I ended up reading all of this series in a short period of timeand enjoyed them all. Thank you, Mr. Lallo for creating an intriguing series. It's often difficult to find new authors that you can connect with. This series was a comfortable read with some familiar themes and unique twists. I'll look forward to checking out some of your other work.
(review of free book)
Review by: The Owl on May 14, 2012 :

Nice! But the other two books (that you have to read perforce if you hope to know how everything ends) do not match the expectations...
(review of free book)
Review by: Melinda Le Baron on May 06, 2012 :

To say that this book was not what I expected from the reviews is an understatemant. Like most epic fantasy, this is a coming of age tale - but that's where it's turned on it's head. Myranda, our heroine is a pacifist who just wants the war to end. She feels the unfortunate loss of humanity on both sides of the war, and if she could figure out any way to speed both sides to peace negotiations, she would do it. But, she is only a girl and an outcast for not fighting on the side of the Northern Alliance. She moves from town to town hiding her true feelings which would brand her a traitor. After slipping up in a village she is given bad directions. These directions don't lead her the nearest town, but into a frozen wasteland. She has to find wood for a fire or she'll surely freeze to death, when she spies a flash of light through the blizzard in the distance. Having no other options, she heads for that light, and what she finds there determines her fate for the rest of the book and beyond.

At this point in the story we reaaly start rolling. Myranda experiences adventures that mystify her and that she is ill prepared for. She gains help from some unlikely places, a half man/half fox, the Undermine, a group fighting against the war, a white wizard who teaches her healing, a baby dragon who latches onto her and becomes her protector, a grey wizard, an Earth wizard, a water wizard, an air wizard, and fire wizard who happens to be another dragon.

Because of what happened in that frozen wasteland, the Elite of the North Alliance have orders to capture her alive. They have alreyady captured everybody that came in contact with her after she left the wasteland. So, what is so bloody important about what she found that the the North Alliance would go to so much trouble over one little girl and the half man/half fox (malthrope) that helped her? The plot twists and turns like a hedge maze as we follow our heroine in her journeys through the North trying to evade capture. And one other thing, all the people in the Northern Alliance don't seem to be quite human. If they're not human, what are they? What do they have to do with a human war? And what is their interest in Myranda? Are they evil?

All these and more will be answered in the final two books of the series - The Battle of Verrill and Convergence. While many questions weren't answered in the first book, the ending was still masterfully done. The characterizations in this book is impressive, going out of its way to present shades of grey to each character, more like real life than othrts - making them leap off the page than most authors. Constantly questioning herself about the right thing to do, Myranda grows throughout the book, the more she finds out about what has happened in the world, as well as being the Mother to a Dragon. By the end of the book she has a purpose that she would give her life for. The other characters such as Deacon and Lain change too through their interactions with Myranda. It is quite a big cast and some are from different races: elves, dwarves, mermaids, malthropes and dragons and yet each has a distinct personality that leaps off the page fully formed.

The pacing in the book is swift - grabbing you from the very beginning and not letting go until the final words. The transitions in the book from characters POV to another are silk smooth, there is no jarring, no stoppong, no confusion. The ending in the book is neither too slow nor too rushed. It answers the earliest questions, but leaves others handing quite open for book 2, which is already out. (So is book 3).

I would whole heartled recommend this book to people who like epic fantasty. I would also recommend it to those who like books on magic - because Lallo's take on magic is a combination of historical accuracy and imagination. I would also recommend this book to people who like to read historical war fantasy. While there are not a lot of battles in the first book, more are coming in the Battle of Verrill. I realy think you'll like this. And last but not least, I recommend this book to students of human nature. When you fight a war for decades there will always be dissenting opinions, disillusioned soldiers, burned out high command. At this point, you're just fighting to fight, not getting the best possible outcome for the people. This book is a thumping good read by any definition. Don't the whinging from other reviews put you off. (PICKY! PICKY! PICKY!) You can't beat the price and I promise your time won't be wasted. Just download it and give it a chance - it's free! I'm on to book two. I can't wait.
(review of free book)
Review by: Mike Andrews on April 15, 2012 :

I picked up this book with several books to just pass the time but found the read relaxing and quite enjoyable. By the end of the book I was almost frantic to read the next one and the next. I would be willing to guess that 10 pages in you'll want to finish before you can put the book down and you may want to know why your E-reader battery doesn't last longer. Would love to find this on the big screen some day.
(review of free book)
Review by: John H. Carroll on Feb. 27, 2012 :

As an avid reader of fantasy, sometimes it's hard to try someone new rather than re-reading books I love, but I'm so glad I opened this book.

It didn't take long to get involved in Myranda's fate. I found myself nervewracked by what could happen next and had a hard time putting the book down. The characters Myranda meets are fascinating and easy to like. I feel so bad for Deacon though and hope things work out for him.

My only two critisms are the lack of chapters, which makes finding my place hard if I swipe up or down on my Kindle instead of sideways, and a few instances of head jumping between characters. These are not enough to truly detract from the story though. :)

I've picked up the next two and am halfway through the second. I can't wait to get back to it. :)
(review of free book)
Review by: Elaine Wurst on Feb. 06, 2012 : (no rating)
I loved this book! It is very well written. The charcaters are so well thought-out. The discriptions of the cold, landscape and hunger were superb. Good job! I loved the second one, too. However, the third re-explained too many things and the overall out come was predictable. I would highly recommend all three. Thank you for crafting such an entertaining tale.
(review of free book)
Review by: Tom Bradford on Jan. 30, 2012 :

I have become a member of Smashwords just to purchase the next two in the series.

If the next two live up to this title, I would like to be able to get paper editions for my own personal library (as opposed to that fluxuating one that consists of books that come and go without my concern).
(review of free book)
Review by: cody cope on Jan. 30, 2012 :

The only word to describe this book is Epic! I purchased this first book with a mass of others and ignored it and by no knowledge of my own saved the best for last! I was so enthralled by this book that I purchased the second one immediately and just finished it in a little less than ³ days with busy work schedule. Way to lure a reader in Lallo, I'm hooked and now purchasing the third book. I think I may take a little more time to enjoy this last one book because this is a story I dont want to end!
(review of free book)
Review by: Karin Rose on Jan. 21, 2012 : (no rating)
I love this book. There were no irritating spelling or grammar mistakes and the story was riveting. I have read the other books in this trilogy and I doubt many will be dissapointed with the end. Highly reccomended.
(review of free book)
Review by: michelle p on Jan. 21, 2012 :

This was such an enjoyable read. Much more so once I discovered it was the first of a trlogy. Although the 2 sequels were not free, the meager price was well worth the hours of sleep lost! I was only sorry to see the tale end and hope Joseph Lallo will consider bringing these characters back. I look forward to his other pieces of work.
(review of free book)
Review by: Jensym1949 on Jan. 07, 2012 :

I have enjoyed Joseph Lallo's books immensely, first the book of Deacon trilogy and just recently Jade. The books are all well written, firing the imagination with their wonderful word pictures it has been a long time since I enjoyed a tale so much
(review of free book)
Review by: Mel Chesley on Dec. 23, 2011 :

I've said it before and I will say it again... I'm a sucker for fantasy. I liked this book. Joseph Lallo has a nice writing style and the story flows really well. I do have to admit, I saw a lot of typos, grammatical errors and repetitiveness. Those are probably the worst comments you'll see from me about this book. However, these are critiquing comments.

The story of Myranda and her faithful reptilian companion is a very good one. It is the first in a series and I am looking forward to the next two books. There are some interesting creatures in this story, different views on magic and how the characters utilize it. I also have to say, that while this is fantasy, the story may be long, but it keeps going and only slows down ever so slightly. Not enough to bore you, though. I've read some books that you just wish they would get on with it, but this story is one that delivers just the right amount of information as it goes along. The information given paints the picture of the world that Myranda lives in and even though it is in some pretty heavy turmoil, there are areas I would love to see in real life, of course.
(review of free book)
Review by: Linda Nelson on Nov. 06, 2011 :

The Book of Deacon is a good book indeed.


I really enjoyed this tale. It is quite long but well worth the read. Joseph Lallo has a really unique way of telling a story. Those who love fantasy will really enjoy this story as well.


I could tell you the details about this story but I refuse to give any spoilers. Instead I will only quote the author by telling you the given synopsis describing the book.


"Product Description


Myranda is a young woman more interested in staying alive than being a hero. Orphaned by a continent-spanning war that has gone on for decades too long and shunned for failing to support it, she has been on the move since she was only a child. One can hardly blame her when she thinks that the chance discovery of a fallen soldier's priceless cargo is the moment that will change her life. No one could predict just how great that change would be. It will lead her through an adventure of rebels and generals, of wizards and warriors, and of beasts both noble and monstrous. Each step of the way will take her closer to the truth of her potential, of the war, and of the fate of her world."


You got to read this book is all I can say from here!






I gave this book 5 out of 5 stars. *****
(review of free book)
Review by: Jeremy Marr on Oct. 24, 2011 :

I stumbled across this book, and am I glad I did. The fact that it was free was a double-bladed dagger for me...was it that bad that it needed to be free to be read? or was it some kind of master plan to get everyone to read it? I LOVE this book so far. Your style of writing is incredible, and more than that, it is believable. Personality per character is consistant (some books have characters who change their thought process like some change their clothes), and i found myself actually becoming one. I dont really read 24/7, and i am not done this one yet, but the fact that when i do have spare time, it's being spent on your book, well, that says alot.
too much time writing this, not enough time reading the book. ive got to go:)
Jeremy Marr - The Hour Glass Dagger
(review of free book)
Review by: Fiona Evans on Oct. 08, 2011 : (no rating)
This was the first eBook read on my new iPad. Not being completely convinced that the printed page could be replaced, I was pleased with the gadget and more than pleased by the book. Beautifully written, interesting and engaging characters and a storyline that begged me to purchase the rest of the trilogy, which I did. I highly recommend this book and offer my gratitude to Joseph Lallo for making it freely available.

The only minor annoyance was the sometimes uneccesary use of the word 'of', which could be easily edited for future editions.
(review of free book)
Review by: Jim Davis on Oct. 07, 2011 :

Pretty fabulous book. I especially liked:
-- the explanation of how elemental magics work in this universe, but the cessation of too much play-by-play. In other words, I got it after the first few words and the author did not trouble me with infinite detail. At 905 pages, Lallo did not need to add more.
-- the development, frailty and humility of Myranda
-- the late discovery of the "rightness" of Lain. I hope to enjoy the development of this character in the sequels.

I will buy the rest of the series. For a cheap-skate like me, that is pretty high praise!
(review of free book)
Review by: Kit on July 06, 2011 :

I grew up playing CRPGs and reading fantasy, but in those magic just happened. As an engineer, I enjoy when some of the mechanics of the magic are explained, it makes it more believable/immersive. (The Harry Dresden series is the only other series that I remember doing this.)

I agree with BattleCat, that the main character does seem female. If words like she/her were not used, you might never guess. As a male reader I may be able to identify with a male character more, so having a more androgynous female could be a benefit. Also, her hygiene and characteristics could be explained by a life on the road. Overall the book focuses on Myranda as a person, and not a female/male, and that is a good thing.

I did not notice any editing problems, but that does not mean they were not there, just that they were not bad enough for me to notice.

It was an enjoyable story, with an interesting world. I plan to buy the rest of series.
(review of free book)
Review by: SweetCaroline on June 02, 2011 :

From a reader's standpoint, I liked the book. The characters caught me up and I moved easily with them. I could imagine Myranda, Lain, Deacon and the others easily. There were enough details to stand them up and as the reader, I got to "dress" them, one of reading's great pleasures if done well. The author does this well.

Another reviewer noted that hygiene was not a high point. Hygiene descriptions generally do not move the story forward so I didn't miss them. That's just my opinion.

I appreciated the classifications of the magic into various elements and levels. Yes, crystals and wands and staffs have all been used before. The means of magic in a story are less important than the ends.

From an editor's standpoint, things are a little more troubled. I was reading the Kindle edition, which lacked chapter titles entirely, so I felt a little whiplashed when the character point-of-view changed. I was disappointed with the continual misuse of the word "alter" instead of "altar" I understood what was MEANT - that's not the point. Please stop relying on your spell-checker and grammar checker to copy-edit your manuscript! A misused word is the reading equivalent of a brick wall across a highway.

I will be buying the next two books in the series; I expect a good story will trump whatever editing problems may still appear.

(I am NOT a friend of the author.)
(review of free book)
Review by: kb on May 23, 2011 :

What a great read! I noticed myself slowing down my reading speed as I neared the end...I didn't want it to end! I have read no other fantasy novel that sucked me in and held fast until I read the last word. I did feed the dog but my husband had to fend for himself for two days because I couldn't put it down... This book has all of the makings of a terrific movie.
(review of free book)
Review by: BattleCat on Jan. 18, 2011 :

Disclaimer: I am NOT a friend of the author, and I am definitely no fan of whoever edited this book. If not for the fact that I enjoyed the story, I would have deleted it for the many errors and the annoyance they caused. The epub version does not have proper spacing, or chapter titles, which leads to confusion when they switch character's perspective. At some point I had to make a conscious decision to stop counting them in my head, or delete the book. The book won; barely.

Other than that, it was a very enjoyable read that, given its setting, could have devolved into something preachy or gratuitously violent. The author chose instead to focus on his world, and its characters. I appreciate that in a fantasy novel. If you're looking for a sermon on the evils of war, this is not it.

Upon further thought, it's not a very realistic portrayal of a female character, either: in that she basically acts like a boy, and has the same lack of personal hygiene, that would likely kill anyone except an 8 yr. old boy. But I don't think that it really detracts from the storyline, in fact it likely helps it avoid a lot of difficult issues.
Ps. The magic is instead "Hocus Pocus" that is zapped from crystals. Not the most original, but not the lamest, either, as the author at least attempts to set up a system and a few rules, which is where it (surprisingly) Does get a bit preachy.
I'll likely buy the next one in this series
(review of free book)
Review by: The Phawx on Aug. 23, 2010 :

Disclaimer: Before you read my review, I'd like you to know that I am a friend of the author. I enjoyed the entire trilogy of "The Book of Deacon" and my review reflects the work and my appreciation for fantasy novels, not espousing empty accolades for a friend in a vain attempt to coerce your purchase.

On to my review, the "Ebook description" above is enough of a glimpse into the story that I'd feel comfortable sharing with you. With that in mind, what I'd like to convey is the detail everything is given to fully flesh out the world and characters. Each major character has an air about them that is very much unique and what you'll find is that many people might relate differently to each character. Each and every action carried out by the characters is firmly rooted behind a subset of distinguishable qualities that breathes life into this fantasy world. Combine this with my favorite aspect of the series is the engineered world of magic. Magic isn't just "Hocus Pocus" that can be zapped from a wand, but a structured, categorized system that can be mastered independently or woven together. The most important facet of magic in "The Book of Deacon" is that it has to make sense. For every outlandish spell you can think of, there is an explanation as to not only what has been done, but HOW.

It is this immense attention to detail that has made "The Book of Deacon" so fun to read. Everything has rules that must be adhered to, so much so, that reading the trilogy stopped feeling like an Epic Fantasy and more like an amazing history.
(reviewed the day of purchase)