Blue Shark Publishing
Publisher info
Steven Mohan, Jr. has published scores of short stories in markets as diverse as INTERZONE, POLYPHONY, and PARADOX, as well as several DAW original anthologies. His short fiction has won honorable mention in THE YEAR'S BEST SCIENCE FICTION and THE YEAR'S BEST FANTASY AND HORROR.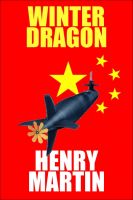 Winter Dragon
(5.00)
The U.S. sub Pasadena draws a routine duty: monitoring a Chinese naval exercise. But what happens next is anything but routine. Pasadena watches a Chinese sub sinks a Chinese destroyer. No one understands what's really happened--and the world's most powerful nations stumble towards war. Diplomat Sandra Johnson must unravel the mystery--before Asia is consumed in the fire of a Winter Dragon.
Blue Shark Publishing's tag cloud
Smashwords book reviews by Blue Shark Publishing
The Society of Secret Cats on Aug. 01, 2011

This story is witty, well-written, and wildly inventive. Its sure to appeal to any kid who likes cats--or any kid who's ever had a nightmare.