Donna Burgess
Biography
Donna Burgess is an author of dark fiction and poetry who enjoys surfing, painting and has a deep affection for all things Monty Python and low-budget horror flicks. Over the past fifteen years, her fiction and poetry has appeared in genre publications such as Weird Tales, Dark Wisdom, Sybil's Garage and others. She has been married for nineteen years and has two children.
Where to find Donna Burgess online
Books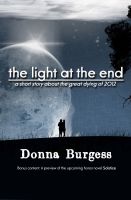 The Light at the End: a short story about the great dying of 2012
Something dire is coming and the government is keeping everyone in the dark. A strange little countdown clock has appeared in the bottom corner of the cable news networks and people are beginning to talk. They feel anxious, afraid. What do you do? Hide? Live your life as if tomorrow is promised to you? Do you give up? Do you hope? Turn your neighbors away at the door? Turn the gun on yourself?
Donna Burgess's tag cloud