Riach Wilson
Biography
Riach is the daughter of an internationally known musician. She grew up in the South-East of England. Her early memories are full of her father's concerts, TV and radio appearances but she decided, in her teenage years, that celebrity was not for her and pursued an 'ordinary' life.

As a an adult she moved to the West Country. Originally a teacher, she has worked in a variety of jobs (including catering and a bamboo factory!) and currently juggles a busy work and family life in Yorkshire, England.

She enjoys reading fiction of all kinds but prefers to write what she calls, 'Romance wrapped in reality'.

'After all,' Riach says, 'what's the point of a romantic story if it could never, actually happen – and what's reality without a little bit of romance?'
Where to find Riach Wilson online
Books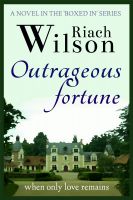 Outrageous Fortune: When Only Love Remains
Since fortune first smiled on Josie Tasker, her life as a singer turned actress has become such as dreams are made of. Then she turns forty, and a series of disasters strip Josie of everything. Does outrageous fortune favour the brave, the rogue or the saint? As Josie negotiates her maze of misfortune she discovers her real friends, a new life, and unexpected love.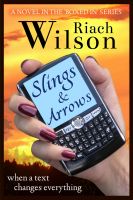 Slings & Arrows: when a text changes everything
Girl-next-door star, Josie, after retreating from confidence-killing press intrusion, reaches her mid-thirties, plucks up her courage, and plunges back into life. She embraces social media, receives offers of work and, almost immediately, romance is in the air – when a stalker's dark shadow threatens her privacy, her plans and her future. Can Josie survive his slings and arrows – and find love?