Sir Lama Bina
Biography
Sir Lama Bina is an author from Kenya and an undergraduate student at Kenyatta University. He consults regularly with executives from a variety of fields to help create environmental solutions to world-impacting problems. Prior to his current position, he created, written, edited and published many items in different fields and most importantly the environment.

Raised in Kerugoya, Sir Lama now lives at Nairobi, Kenya. Sir Lama has recently been honored with the first annual environmental theme award for Notable Achievements in conservation, and he has been asked to join the editorial boards of two new journals in the environmental related fields.
Where to find Sir Lama Bina online
Books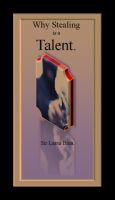 Why Stealing is a Talent!
It is not hard to realize how they do it, so fast and leave unnoticed. My catastrophic experience in the city served to chastise me and here is the story of how i discovered my talent and what I do - Stealing.