David Hunter
Biography
David Hunter was born in Scotland and his life has gone steadily south from that point. Handicapped by an English education, his historical career low-points include: hole-digger, stone-trundler, sales monkey and can-carrier. Today he is responsible for the misdelivery of a substantial quantity of the nation's post. His delusions of adequacy now extend to imagining himself a writer.

His stories might appeal to those folk who hanker after some old-fashioned, fast-paced sword and sorcery, but who think the likes of Howard and Martin are a bit too lily-livered.

If you just buy one of his stories, he recommends The Berserk and his Wife, although he'd be very pleased if you liked it enough that you bought others too.
Books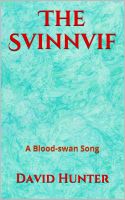 The Svinnvif
A wintry tale of death and deceit. When a remote village is threatened by horror in the night, the mysterious and beautiful svinnvif comes to their aid but brings with her peril and her own desires.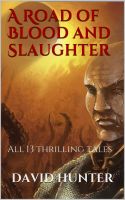 A Road of Blood and Slaughter
Relentless, fast-paced action set in a pitiless world of swords and sorcery where only the ruthless and cunning may hope to survive. Follow the calculating and lethal Artemo, and the brutal but charismatic Horsa, as they carve intertwining paths through lands where acts of despicable evil are performed in pursuit of noble goals and where heroism is likely the last resort of fools.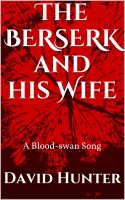 The Berserk and his Wife
A grim yet stirring tale of a family defending their lonely homestead against savage sea raiders; and of the complex love that exists between the hulking, dull-witted Headho and his wife, the strong-willed and fiery Elfswitha. It is a violent tale leavened with a little humour and softer moments of calm amidst the struggle.
Smashwords book reviews by David Hunter
The Lebanese Troubles on April 12, 2010

This is a carefully crafted book that surprised me by avoiding much of the subtle 'formula' that afflicts too much of contemporary literary fiction. Elements of that formula are present of course: a rather pathetic central character (Richard) who is a prisoner of events, for instance. But Miles doesn't overdo introspection. In fact it's quite refreshing how little agonising and self-analysis Richard undergoes. He mopes and sulks but in an entirely authentic way. He doesn't often think things through, he just wallows in self-pity. And when he does think about his situation, it's in a very self-centred way - everyone to blame but him. And all the characters, who we see filtered through Richard's rather niaf eye are well drawn and entirely believable. My favourites are the sophisticated Lebanese businessman who runs rings round the hapless westerners and Richard's long-suffering wife, who remains something of a puzzle. Is she in fact as irritating as she comes across at times, or does Richard's filtering eye taint and twist her portrayal? It's a book that starts with hints of wife-swapping and expatriate decadence, then turns into a worm's eye (Richard of course being the worm) view of a country sliding into civil war (and naturally that mirrors Richards own slide into turpitude, but that's part of the literary formula, but done well enough not to be intrusive. Too often such things just reek of the author's cleverness. Not here). And then there's a hint of the spy-thriller, an unexpected twist that caught me slightly by surprise but with a very appropriate resolution, quiet in keeping with the realism of the novel. The fourth part sees almost a complete change of tone, a desert journey where perhaps Richard achieves some sort of epiphany and leads naturally into the end where there are resolutions like those of real lives, no trite wrappings up here. What really makes this book stand out, well above the mass of competent literary character studies, is the Lebanese background, which is simply wonderfully done, from the mountain idylls through the city grime to the decadence of the casinos and the variety of Lebanese characters encountered. A perfect snapshot of what living in Lebanon at the time must have felt like. It's a book to read twice (at least). And one to savour.