Apple Sliced
Biography
Apple Sliced was created as a solution to the countless queries from friends and family members about what to buy and where to find the lowest prices on Apple products. It used to be that Apple products, the best on the market, were also the most expensive. But with Apple Sliced, the high price tag is a thing of the past. From Macs to iPods, Apple Sliced takes the Apple Store out of the buying equation. What it adds is a network of trusted merchants competing to bring consumers the best price on the market. That can mean savings in the hundreds of dollars.
Where to find Apple Sliced online
Books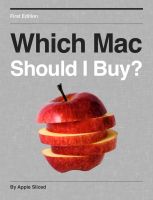 Which Mac Should I Buy?
Buying a new computer can be a stressful endeavor. But getting a new Mac doesn't have to be a headache or takes months of research. The aim of this book is to simply help you pick the best Mac for your needs while showing you how to save a few hundred dollars on your purchase. And it's not going to take 300 pages like some other computer books.
Apple Sliced's tag cloud