Barrie Stacey
Biography
Barrie was born in Bournemouth, and had theatrical leanings at an early age. After National Service he came to London and trained at several theatres and tours. His first play 'Teddy Boy' toured in the fifties and his own coffee house was opened in 1960 at The Seven Dials in Soho. It became famous, and infamous, for the many characters it attracted. Amongst its many customers were Quentin Crisp, Simon and Garfunkel, Paul Simon, Lindsey Kemp, Wayne Sleep and many, many more!From 1972 he became well known as a theatrical agent as well as presenting many children's musicals on tour. He also presented star concerts such as The Jessie Matthews Show at the Shaftsbury Theatre in the West End and Jim Bailey at The London Palladium. He has presented over fifty concerts with John Hanson, Frankie Howerd, Bob Monkhouse and many others.Lately he has toured his one man show and numerous 'Songbooks', mostly 'West End to Broadway', 'The Cole Porter Story', and others.He has written children's musicals which have toured the UK and had his own gossip column in the late 'Plays and Players' magazine.He recently had his first novel published and is writing more projects. At the age of eighty-five he looks back over the years and tries to recapture the many excitements, victories and memories he has enjoyed.
Books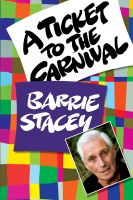 A Ticket To The Carnival
by

Barrie Stacey
Barrie Stacey is a well known figure on the London entertainment scene and has worked in various aspects of the entertainment business for decades, proving that style never goes out of fashion. Hilarious, audacious, and scandalous A TICKET TO THE CARNIVAL is everything its name implies. A zany and funny memoir which reveals British Theatre inside out, told with Stacey's inimitable style and charm.
Barrie Stacey's tag cloud