Emily Goodwin
Biography
Emily Goodwin resides in Indiana, where she lives with her husband, five ferrets, three horses and a dog, a much loved German Shepherd named Vader. Accused of being a day dreamer, Emily began writing at an early age, making use of her active imagination. She has a degree in psychology, likes anything paranormal, 80's rock and eating too much junk food with her friends.
Where to find Emily Goodwin online
Books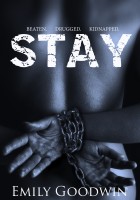 Stay
(5.00 from 1 review)
Adeline Miller is ripped from her innocent and carefree life and thrust into darkness, into a world full of pain and horror. As a sex slave, she is forced to do horrible things, and have horrible things done to her. One of her captors has a past as dark as the world she is now living in. Will getting close to him mean freedom? Or will he pull her deeper into the shadows?