Emily Goodwin
Biography
Emily Goodwin is the international best-selling author of the stand-alone novel STAY, The Guardian Legacies Series: UNBOUND, REAPER, MOONLIGHT (releasing 2014), The Beyond the Sea Series: BEYOND THE SEA, RED SKIES AT NIGHT (releasing 2015) and the 2014 CRHC award winning Contagium Series: CONTAGIOUS, DEATHLY CONTAGIOUS, CONTAGIOUS CHAOS, THE TRUTH IS CONTAGIOUS (Permuted Press).

Emily lives with her husband, daughter and German Shepherd named Vader. Along with writing, Emily enjoys riding her horse, designing and making costumes and Cosplay.
Where to find Emily Goodwin online
Books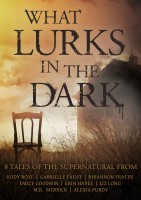 What Lurks In The Dark
From vampires and witches to demons and magic, eight bestselling authors have woven dark tales of the supernatural that will have you reading with the lights on until the very last page.