Jacqueline Colhoun
Biography
J.M. Colhoun was born and educated in Liverpool. After being awarded two music studentships in Singing and Pianoforte, she spent four years at the Royal Manchester College of Music, then completed a Postgraduate Certificate in Education, and a Diploma in Teaching English as a Foreign Language.After a period in education (teaching and lecturing in Music, Drama and Modern Languages), she became freelance, performing solo broadcasts for BBC radio, and acting as a vocal dialect coach for stars of stage, screen and radio.She has written in various genres and now divides her time between writing, performing and composing.
Where to buy in print
Books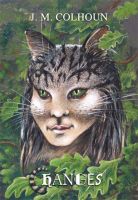 Changes
by

Jacqueline Colhoun
Upon the death of her mother, Kit, in turn becomes one of The Gifted, able to shape-shift into feline form and secretly change the lives of humans. Surprises abound for the reader – and for Kit.J.M. Colhoun delivers a beautifully written, captivating book. Its poetic prose and compelling tales will intrigue and enchant with the turn of each page.
Jacqueline Colhoun's tag cloud