C.L. McMahon
Biography
C.L. (Luke) McMahon has at various points in his career been a political advisor on foreign, defence, justice, and police policy. He's also been a wine writer and wine tour guide, as well as doing a stint as a corporate communications consultant which he doesn't like to talk about. Currently, when he's not traveling, writing, making music, or drinking wine, he lives in New Zealand and works in communications in the not-for-profit sector.
Where to find C.L. McMahon online
Books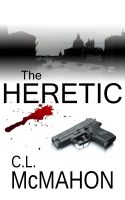 The Heretic
(5.00)
Gus Deacon, ex-CIA, is a freelance operative. But a job went wrong, and now a dangerous arms dealer wants him dead. Deacon is offered a chance to make amends. It sounds easy – maybe too easy. But before the bullets even start flying, he gets the feeling that nothing is quite what it seems. The Heretic tightens its grip as the dance of deceit draws Deacon ever closer to a shattering conclusion.
C.L. McMahon's tag cloud