Mike Basevic
Biography
No Limits Founder and Creator Coach Mike Basevic, is a nationally-recognized behavioral strategist, performance coach, author, and speaker who has been training athletes of all ages for two decades.
With a track record of entrepreneurship that includes building strong teams and individuals from sports to business, Coach Mike is dedicated to helping each person realize their full performance potential. During his years working with top athletes, Coach Mike studied why certain players excel at crunch time while others fail. This journey uncovered the truths of human behavior: how we use our minds, emotions, and other internal factors to create our results, both good and bad. He also began to track the mental strategies used by consistently successful athletes and implemented them in his coaching with both teams and individuals, building the foundation for No Limits. With these groundbreaking discoveries, Coach Mike founded No Limits to empower athletes to create their own success, purpose, and happiness – both on and off the field.

Today, the principles shared through Coach Mike's book, workshops, coaching, and the No Limits Nation are transforming performance from the court and fields to the classroom and the homes. Now students, schools, professional athletes, and even competitive businesses are using No Limits to get the edge over their competition and create the life they truly want to live.
Where to find Mike Basevic online
Books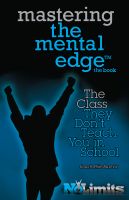 No Limits, Mastering the Mental Edge
This is the long awaited book where Coach Mike Basevic uses experiences in his own life along with his 20+ years working with young athletes to teach the simple yet powerful techniques for superior performance and an inspired life! This is for athletes, parents, coaches and anyone else looking to create a better life as Coach Mike has magically used sports as the conduit for this information.