Phoenix Uriela
Biography
Phoenix Uriela currently lives in Texas with her two sons and her two cats, Midnight and Ewok, and her dog, Jedi. When she isn't working as an Academic Instructor or working on her second book in the Light Warrior series, she is studying language, graphic design, and script writing.
Where to find Phoenix Uriela online
Books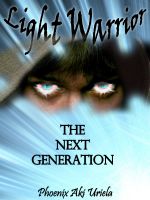 Light Warrior: The Next Generation
By
Phoenix Uriela
Price: Free! Words: 84,020. Language: English. Published: August 31, 2012. Category: Fiction
(4.50 from 2 reviews)
Light Warrior: The Next Generation is the first book in a series that reveals the journey of a specific group of elite warriors that exist to ensure that the balance of energy remains stable among their planet. As their skill in manipulating light vibration strengthens, the warriors bond of power and friendship deepen further, which are all necessary to stop the enemy from gaining more power.
Phoenix Uriela's tag cloud