Clans of Kalquor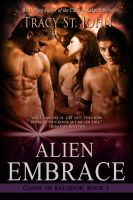 Alien Embrace
Re-edited and expanded. An Earth woman is claimed by an alien clan of three men, bringing their two worlds to the brink of war.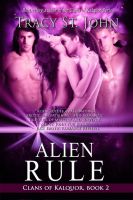 Alien Rule
By
Tracy St. John
Series:
Clans of Kalquor
, Book 2. Price:
$4.99 USD.
Words: 106,210. Language: English. Published: December 16, 2013. Category: Fiction
Marked for execution, Jessica McInness knows joining the enemy is her only hope for survival.