Alexander Griggs-Burr
Biography
My name's Alexander. I love to draw, paint, write, play guitar, and design Fantasy themed table-top games. I was lucky enough to grow up in a house surrounded by artwork of all kinds. Drawing with my dad and reading with my mum are some of my earliest and best memories, and I've aspired to be a writer and artist ever since. Of course, on my way to adulthood I discovered some other interests too, such as games in public school, music in high school, and philosophy in University. Once I had graduated with B. A. in Philosophy and Studio Art, I found it difficult to settle on a definitive career path. There were just too many exciting possibilities to explore. I've worked as an illustrator/comics artist in the publishing industry, a 2D artist and UI designer in the games industry, and as art director/gameplay designer for a small international dev-team working on a digital trading card game. But through all of this I never stopped thinking about my ideas for novels and games of my own. I spent years working on my first novel 'Darken' which I'm proud to say is now available as an independently published e-book at all online retailers. I'm currently working on my next project 'Pandaemoniun'—a High Fantasy comic book series and table-top game. If you want to learn more about Pandaemonium, and see how the project is coming along, my Patreon page is the place to be.
Where to find Alexander Griggs-Burr online
Books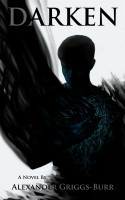 Darken
by

Alexander Griggs-Burr
(5.00 from 1 review)
The dead came back quietly at first, enigmatic and wraith-like, emerging slowly over time until there were too many to be denied existence. But their return is only the beginning, the leading edge of an oncoming darkness. No one understands the danger. Something unseen is stirring. Something is driving out the dead. Something that dosen't mind snuffing out a few worlds to get what it wants.
Alexander Griggs-Burr's tag cloud