AmandaColing
Biography
Amanda Coling is anti-fragile, divergent, ambivert, polymath, darkmochafrappoholic, closet sapiosexual, existentialist in the streets, hedonist in the sheets. She's the woman your mother warned you about, except her imagination wasn't this good. she loves putting words together and turning them into ideas, worlds, universes even that can move, inspire, motivate, disturb, transform....
Where to find AmandaColing online
Books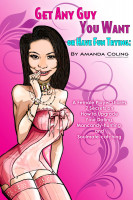 Get Any Guy You Want, or Have Fun Trying: a Female Player Shares 7 Secrets on How to Upgrade your Dating, Mancandy-hunting, and Soulmate-catching
by

AmandaColing
(5.00 from 1 review)
An Ugly-Duckling-Turned-Female Player Reveals 7 Shocking Secrets on How to Attract Men,Get Satisfying Dates, and Finally Find Romantic Bliss using real-world, practical, and immediately applicable techniques even if you've never had a date before. Get Romantic Results in 30 days or it's free.
AmandaColing's tag cloud