Ana K. Wrenn
Ana K. Wrenn wrote her first story at 8 years old while sitting on the scuffed wooden floor of her childhood bedroom. Then and there, she fell in love with ripe words, rich metaphors, and complex characters. An award-winning professor, researcher, and writer, she spent decades authoring dozens of scholarly articles and nonfiction essays about women's lives, losses, and loves. Secretly, though, as she worked her ways up the academic ranks, she continued writing novels. She weaves her love of and admiration for women into all her works, fiction and nonfiction, and is especially enraptured by the courage and fortitude women display when facing difficult times.

Ana is rooted in the mountains of Southern Appalachia, USA, where she writes in a house atop a hill, surrounded by weeping hemlocks, towering poplars, draping rhododendrons, and whining dogs and cats adopted from her local shelter. She is a member of the Golden Crown Literary Society, Tennessee Mountain Writers Association, and Women's Fiction Writers Association. Strange Attractors is her debut novel.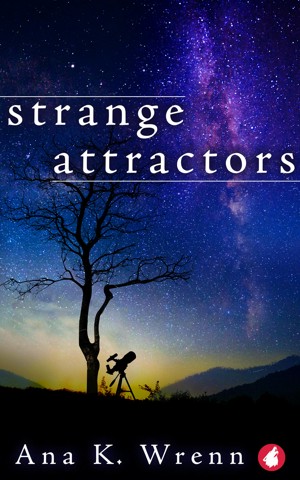 Strange Attractors
by

Ana K. Wrenn
Fierce, icy Professor Sonja J. Storey has exacting plans to remake her backwoods college, just as she has remade herself. Her controlled life is shaken up when faced with sinister notes and shadowy nocturnal figures. Sonja must find the source of the chaos before she loses her brilliant mind, and maybe the one thing she's never known—love.