Ann Clute
Biography
Full time family events, activities and healthcare coordinator. Currently writing and serving as Wednesday night hospitality coordinator at Hawley Lutheran Church.

Professional Background

•Extensive training and experience for enabling superb relations within organizations, and amongst communities and individuals.
•More than 25 years of teaching experience with expertise to positively direct learning and interaction in all disciplines and environments.
•Make the work environment fun and fulfilling using energy, creativity, innovation, and diverse resources.
•Practical experience with family, parent, and childhood materials and scheduling.

Educational Background

B.A. from Concordia College, Moorhead, MN 1981.
o Major Elementary Education.
o Kindergarten Certificate.
o Coaching Certificate.
o Remedial Reading Certificate.
o Early Childhood Education Certificate.

Experience Background

1981-1982: Glenwood, MN – First grade teacher.
1982-1983: Fargo Public Schools – Remedial Reading teacher and tutor.
1983: Farmington, MN – Long term kindergarten substitute.
1983-1989: Fargo Public Schools, Lincoln Elementary – Second grade teacher.
2006-2007: Hawley Public School – Paraprofessional in the kindergarten classes.
2007-2010: Hawley/Dilworth/Glyndon Public Schools – Substitute teacher at all elementary grade levels.

Responsibilities includes activities such as -
•Supervise various extracurricular activities and volunteers, recording the progress reports and behavioral reports of children
•Planning and carrying out the daily activities and overall elementary programs, individualize the children's progress and make them eligible for upper grades.

Related Experience

1988-present:

Moorhead Community Education – Early Childhood Family Education board member.
All American Communications – Wellness and Health recruiter, telecommunications specialist.
Health Industries, Inc – Pro Shop Manager.
High Energy, Inc. – Childcare facility and children's wellness programming Director.
Grace Lutheran School – PTO Board member.
Olivet Lutheran Church - Sunday school teacher.
Olivet Lutheran Church – Bible school teacher.
Olivet Lutheran Church – WOW activities director.
Olivet Lutheran Church – Confirmation leader.
Fargo Public School - Lewis and Clark Elementary School PTO Board member.
Fargo Public School – Lewis and Clark Elementary School 8 years book fair coordinator.
Spring and Fall coordinated suppliers, marketing, volunteers, scheduling, entertainment, and managed financial aspects for the $10,000 income generating event
American Diabetes Bike and Run Event – Coordinated two fund raising events for the American Diabetes Association to raise approximately $10,000 in annual support.
Hawley Public School – PTO Board member.
Hawley Lutheran Church – Preschool Sunday school teacher.
Hawley Lutheran Church – Youth group volunteer.
Planning committee member for Hawley Helping Haiti.
Co-chair for childcare services for Hawley Helping Haiti packing event.
Hawley Lutheran Church - Chef and social director for family night meals.
Books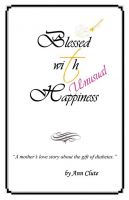 Blessed With Unusual Happiness
by

Ann Clute
(4.00 from 1 review)
"Blessed" is an enchanting, engaging story of love, faith and perceptions that is written to help all of us stay on top of our game every day. The world imposes challenges of all kinds on all people. Ann Clute shares the thoughts, feelings and decisions that helped her to achieve "unusual happiness." You will be inspired and confident as a result of this new and easy to read book.
Ann Clute's tag cloud