B Branin
Biography
Luckily I'm an expert on myself so writing a personal bio is easy. Especially if you lie. A lot. So, with that in mind I'd like to inform all of you that I began my writing career in the year 2323, which happened to be a thesis on time travel. After getting the funding from Uncle Sam (not the personification of the US government but a relative), I built the world's first time machine. After a few comical mishaps and action packed ninja fights, I ended up here in this day and age after my time traveling device ran out of fuel. But why cry over spilt chronomancy? I'm making the best of this era by hopefully becoming an accomplished writer...with your help, of course.
Where to find B Branin online
Books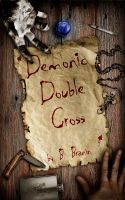 Demonic Double Cross
by

B Branin
(4.33 from 6 reviews)
Conman Arthur Broker has finally become a resident on easy street while posing as a paranormal investigator, separating superstitious suckers from their money. This cozy lifestyle shatters after the beautiful and possibly unstable Fiona Ambrose turns to him for help against the Daughters of All, a mysterious cult that has a knack for drug peddling, kidnapping and murder.
B Branin's tag cloud