Edward Boersma
Biography
Edward Boersma was born in the small town of Nieuw Amsterdam, in the province of Drenthe, the Netherlands. In 1934, Edward's family immigrated to America in December 1947. The family settled in Bellflower, California. Ed graduated from California State University, Long Beach, in 1960. He began his teaching career in 1961 and was in the education field for ten years. While a senior at California State University, Long Beach, he published a paper with his Geography professor, Dr. Burton Anderson, entitled, "The Changing Location Factors of the Los Angeles Milkshed." Ed has been self employed for many years in enterprises closely related to agriculture. He lives in Visalia, California with his wife Betty, a Queensland Heeler dog and a cat, both named Jack. His passions are sailing, flying, reading and travel in his RV.
Where to find Edward Boersma online
Books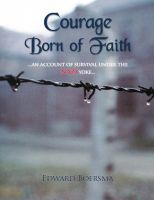 Courage Born of Faith
by

Edward Boersma
"Courage Born of Faith" is a radically comprehensive story of a Dutch family which survived the NAZI yoke during the occupation of the Netherlands in World War II. Hiding and feeding Jews was the right thing to do, but HARD, since survival was never guaranteed for the one offering aid or the Jew. The author, Edward Boersma, did a compelling job of telling this compelling story.
Edward Boersma's tag cloud