Bri McKay
Biography
Bri McKay is a young entrepreneur. Graduating from KD Conservatory in Dallas, Tx, Bri is the lead singer for alternative pop band Current Waves. Also an actress and model with a business mindset, she is proud to add the title of author to her list of credentials and accomplishments. Bri prides herself on being a creative soul and creating entertainment and awareness to the masses. For more of her artistic work and find out new projects she is working on, follow her on Instagram (@B_sho3s) and on Facebook.
Smashwords Interview
Books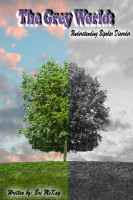 The Grey World: Understanding Bipolar Disorder
by

Bri McKay
"Do not think of this as a curse. Think of it as a gift." These are the words that have stuck with Bri McKay on her personal journey with Bipolar. "The Grey World: Understanding Bipolar Disorder" relays truth, understanding, and the reality about those living with the mental illness. Filled with advice on coping and support, hope, and a touch of tough love, immerse yourself into the grey world.
Bri McKay's tag cloud