Cameron Deakin Moon
Biography
I was home-schooled by my mom (also an author, Clarrissa Lee Moon), I am attending college now. I enjoy martial arts, swimming- anything physical actually. My dream is to either have a traditional home in Japan and open my own Dojo or maybe try my hand at being a Bounty Hunter or a Body-guard someday. My family encourages me to strive to be the best at anything I want to be and I still have a lot of time to figure that out. Right now, writing and college seems to be the thing to do now, so we will see what the future will bring later on.
Series
Books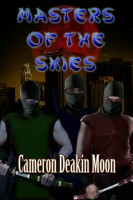 Masters of the Skies
by

Cameron Deakin Moon
Tokyo, Japan. Site of historical battles that far outshine even the most extraordinary legends known to man. It's people go about their daily lives telling legends of its most noble warriors: The Samurai and the stealthy assassins that rose against them: The Ninja. Never knowing that the ancient order of Ninja still thrives in the shadow's of it's cities.
Cameron Deakin Moon's tag cloud