Stephanie Wilson-Coleman
Stephanie Wilson-Coleman lives her inspiration as the Founder and CEO of The Champagne Connection. She is the author of three published inspirational books, with a fourth one in the making, entitled Creating a Masterpiece from a MasterMess, and is the host of the popular cable access television show A Sip of Inspiration.
Through The Champagne Connection, Stephanie, an ordained Minister, Success Mindset Mentor & Pranic Healing Enthusiast has the uncanny ability to help others transform emotional and mental obstacles into stepping stones to living their dreams. She has an insatiable appetite for helping others re-think the impossible. Whether she is engaging a small audience, doing one-on-one mentoring/counseling, speaking to a large conference, or presenting before a pulpit, everyone will experience a breakthrough.
Her superpower: Transforming Lives. With her guidance, teeth-rattling, soul-shaking experiences vaporize at her command.
The Champagne Connection helps others talk about, identify, and work to resolve the difficult, emotional, and often painful behavior and actions that affect their financial health and the financial health of their families. By uncovering the memories that are keeping others chained to old, worn out stories of failure, Stephanie is able to help others embrace the change required to change their lives.
Meet the Empowerment Doctor
You are the Miracle, don't let life pass you by. Join me on my website: http://champagneconnection.com/ and sign up for my newsletter.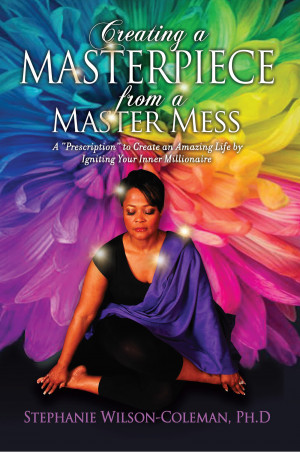 Creating a Masterpiece from a Master Mess
by

Stephanie Wilson-Coleman
Creating a Master Piece from a Master Mess outlines the spiritual breakthrough process the author used to move from the path of homeless to hopeful, from financial despair to financial independence.