Susan Molina
Born and raised in St. Louis, Missouri, I struggled as a child to learn to read. Set apart from others in my class, my teacher with patience and kindness, never gave up or made me feel stupid in my stuggle to understand how the confusing lines and curves before me, made up words. Reading opened up a world for me I could escape to day after day, as I lived the life of an abused child.
As most writers will tell you, the passion for reading, led quite naturally to the urge to write and have your own say. But I didn't become an author until later in my life as I concentrated most of my writing to research and reports on child abuse- devoting much of my life to giving a voice to those without one.
In 2003 I wrote, "I'm Not Sybil". It was my own story of childhood abuse and trauma that came from the depths of a pain I had not shared outside of therapy. The purpose of the book was to connect with others who like me, remained silent and damaged, hoping the world would not see since we viewed our secrets as shameful.
Woven Patches came to me as easy as breathing or smelling the ocean, since I'd been haunted all my life by the racist world I was raised in, but could not understand. My memories of a little boy I shared a hospital room with at the age of seven never left me and his friendship and kindness to me was something I longed to thank him for but never could thoughout my life. I often thought what a wise and special person he was at such a young age, that in spite of my mother's racist fit in the hall outside our door calling him "Nigger" to the Doctor, he was able to look at me and not judge us all by the words of one. The year was 1959, and although some progress has been made, it has not been nearly enough and for those who suffer the cruelty and ignorance of the effects of racism, change is far too long overdue.
Woven Patches is the first book in a series that is meant to thank that little boy for his kindness and compassion shown to me and I hope the angry words he heard that day, were not repeated so often in his life that he gave up hope, as Dr. King told us, "the day would come when we would judge others not by the color of their skin, but by the content of their character".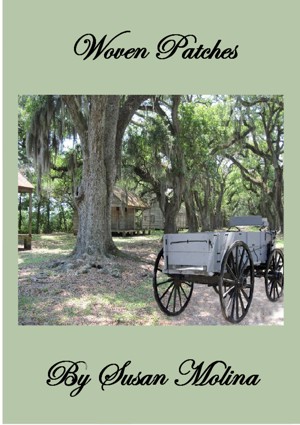 Woven Patches
by

Susan Molina
The Civil War was over. Plantations were left in ruin. Negros moved out and on to freedom, and for many poor whites, the land deserted by slaves, became the only land they could afford to own. Year by year, the Patch grew until it became a community of people whose lives were woven together by those patches of land bought cheap that no one else wanted.