Halil İnalcık
Biography
Halil İnalcık, Ankara Üniversitesi DTCF ve Siyasal Bilgiler Fakülte'lerinde 1942-1972 yılları arasında tarih hocalığı yaptıktan sonra 1972-1986 dönemlerinde Chicago Üniversitesi'nde profesör olarak görev almıştır. 1993'de Bilkent Üniversitesi Tarih Bölümü'nü kurmuş olup burada Osmanlı tarihi üzerine dersler vermektedir. 28 kitap ve 400'e yakın makalenin yazarı olan İnalcık'ın, İngilizce yayınlanmış olan The Ottoman Empire - The Classical Age (Osmanlı İmparatorluğu-Klasik Dönem) ve An Economic and Social History of Ottoman Empire (Osmanlı İmparatorluğu'nun Ekonomik ve Sosyal Tarihi) adlı eserleri Yunanca, Arapça ve Lehçe'ye çevrilmiş bulunmaktadır.
Osmanlı tarihi alanında önde gelen pek çok akademisyene hocalık yapan Halil İnalcık'ı Türkiye, ABD, İngiltere, Sırbistan ve Arnavutluk Akademileri üye seçmiş olup ayrıca şimdiye kadar 18 üniversite fahri doktorluk tevcih etmiştir. Türk bilimini Dünya ölçüsünde temsil eden İstanbul doğumlu tarihçimiz bugün 94. Yaşını idrak etmektedir.
Books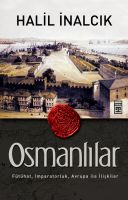 Osmanlılar
by

Halil İnalcık
Halil İnalcık Osmanlılar'ı Yazdı… Halil İnalcık, Osmanlı sosyal-ekonomik yapısını, onu belirleyen belli başlı kurum ve kanunları, tahrir sistemini, Osmanlı'nın kuruluşuna dair merak edilen soruları, Osmanlı fetih yöntemlerini, tarihten günümüze Avrupa ile ilişkilerle alakalı bugüne kadar bilinmeyen birçok şeyi Osmanlılar kitabında anlatıyor.
Halil İnalcık's tag cloud