İlber Ortaylı
Biography
English;

İlber Ortaylı was born in Vienna, Austria in 1947 and graduated from Ankara University's school of Political Science in 1969.He studied Oriental and Slavic languages at the University of Vienna and history at Ankara University. He received his M.A. in history from the University of Chicago and his Ph.D from the Faculty of Political Science at Ankara University. His areas of research include, among other things, Ottoman Historiography, the cultural and political life of the late Ottoman Empire, Russian and Turkish history as well as the Ottoman transformation.

Türkçe;

1947 yılında doğdu. Ankara Üniversitesi Siyasal Bilgiler Fakültesi (1969) ile Ankara Üniversitesi Dil Tarih Coğrafya Fakültesi Tarih Bölümü'nü bitirdi. Chicago Üniversitesi′nde master çalışmasını Prof. Halil İnalcık ile yaptı. "Tanzimat Sonrası Mahalli İdareler" adlı tezi ile doktor, "Osmanlı İmparatorluğu′nda Alman Nüfuzu" adlı çalışmasıyla da doçent oldu. Viyana, Berlin, Paris, Princeton, Moskova, Roma, Münih, Strasbourg, Yanya, Sofya, Kiel, Cambridge, Oxford ve Tunus üniversitelerinde misafir öğretim üyeliği yaptı, seminerler ve konferanslar verdi. Yerli ve yabancı bilimsel dergilerde Osmanlı tarihinin 16. ve 19. yüzyılı ve Rusya tarihiyle ilgili makaleler yayınladı. 1989–2002 yılları arasında Siyasal Bilgiler Fakültesi′nde İdare Tarihi Bilim Dalı Başkanı olarak görev yapmış, 2002 yılında Galatasaray Üniversitesi′ne geçmiştir. Halen Topkapı Sarayı Müzeler Müdürlüğü Başkanı görevini de yürütmektedir. Uluslararası Osmanlı Etüdleri Komitesi Yönetim Kurulu üyesi ve Avrupa Iranoloji Cemiyeti üyesidir.
Books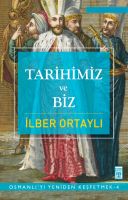 Tarihimiz ve Biz
by

İlber Ortaylı
Prof. Dr. İlber Ortaylı derin vukufiyeti ve benzersiz üslubuyla bizi tarihimizle tanıştırıyor, yüzleştiriyor. Osmanlı'nın klasik dönemini, XVIII ve XIX. asırlardaki toplumsal ve siyasî panoramayı, bugünkü Avrupa'yı var eden koşulları, Türk, Rus ve Japon modernleşme yolculuklarını, kısacası dünya medeniyetinin kökenlerini gözler önüne seriyor.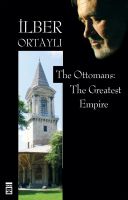 The Ottomans: The Greatest Empire
by

İlber Ortaylı
What was the significance of the Ottoman Empire? What lessons can be drawn from the civilization that the ottomans created? What does the Ottoman Empire mean to us today? One of Turkey's leading historians answers all of these questions in "Ottomans, The Re-Discovery", a brilliant set of learned and engaging reflections on the everyday life, legacy and enduring relevance of the Ottomans.
İlber Ortaylı's tag cloud