IVR Davison
Biography
Ian VR Davison was born in Kent in 1963 and was brought up in a seaside town in Somerset. At the age of forty six, after twenty five years working as a management consultant primarily in the Central Government sector, Ian gave it all up to concentrate on his writing.

His first book, a murder mystery, 'Murder at the murder', was based on an idea he originally conceived over fifteen years before it was finally written. The notes sat on a dark shelf gathering dust but he always knew that one day he would find the time to write it. Once restarted he completed the first draft of this novel in just over a month.

He is currently working on a second murder mystery novel with his regular detectives Alan and Becca Foreman.
Books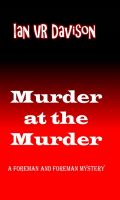 Murder at the murder
by

IVR Davison
DCI Alan Foreman and his wife,Becca, are at a murder weekend where too many murders occur. When they realise that the hotel has become a real crime scene Alan and Becca race to solve the crimes. Who will be triumphant?
IVR Davison's tag cloud