Kendra McMahan
Biography
Kendra McMahan lives in the Rocky Mountains of Colorado with her daughter and their dog, Ewok. She's never been one for societal expectations and so she is a graduate from The School of Life. After 25 years of obsessing over books, writing poetry and activism essays, and trying to figure out what she wanted to be when she grew up, she finally decided she was born to be a writer — naturally — and she apologizes that it took her so long but would like to remind everyone that everything happens when it's supposed to. She writes with a relentless passion for the raw human, societal, and environmental condition. When she's not writing, she can be found reading, homeschooling, gardening, and preparing for the zombie apocalypse.
Where to find Kendra McMahan online
Books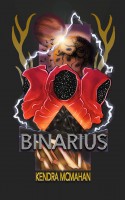 Binarius
by

Kendra McMahan
Binarius, a tale of victim and perpetrator, and those who inevitably -- are both. Somewhere beneath, within, outside the timelines of the cosmos, a planet has been tactically infected with poison. The end of The Blacken might be near, but sometimes endings are disguised as new beginnings -- and some endings last forever.
Kendra McMahan's tag cloud