Joe Lizura
Biography
Joe Lizura is a 27 year television veteran, having worked on the air with NBC, CBS and ABC and has performed more than 2,000 live shots. Through the years, Joe has become an expert in teaching people and organizations how to prepare for and conduct live shots that are both entertaining for the viewer and exceptional at providing free promotion for the group being featured on tv.
Where to find Joe Lizura online
Books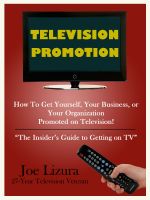 TELEVISION PROMOTION: How to Get Yourself, Your Business, or Your Organization Promoted on TV - the insider's guide to getting on TV
Learn the insider secrets to cashing in on tens of thousands of dollars worth of FREE promotion by being featured on TV. This book will teach you how to get on TV and how to keep getting invited over and over again on to television in your city. Learn how free promotion and exposure can make you, your business, or your organization, a household name in your city!
Joe Lizura's tag cloud