Johannes F. Lisiecki
Biography
JOHANNES F. LISIECKI was born in Horrem, Germany. After completing his basic and professional education in the field of mechanical engineering he immigrated to Canada in 1959. He was living with his young family in Toronto when he was invited by the Boeing Co to come to Renton, WA, USA, known as the jet capital of the world, where he joined the team working on the 747. He left Boeing in 1970 to become an adventreneur, which led to a life of fabulous successes and failures. He kept meticulous notes and diaries which he is now converting into books. Johannes received a Certificate of Merit from Writer's Digest in the 1998 National Self-Published Book Awards for his book An Adventreneur's Odyssey. He has given over 200 Rotary and other presentations of his story in the United States and Canada. Johannes has written numerous articles and was the final and certifying editor for the English to German translation of the book Conman or Saint written by Pulitzer prize winning author John Fraska. He has been featured in newspapers and magazines in Brazil, Germany, Canada, and the United States. Johannes and Marlis, his wife of fifty-four years, reside in Lynden, Washington.
Where to buy in print
Books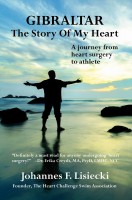 Gibraltar, The Story of My Heart
by

Johannes F. Lisiecki
This book is the tale of a remarkable man. With his excellent physical condition and active lifestyle, Johannes F. Lisiecki was not a likely candidate for heart disease. Yet one day he found himself suffering a major cardiac event that soon led to open heart surgery and a complicated recovery. Despite the challenges, within a year Johannes was swimming many miles each week.
Johannes F. Lisiecki's tag cloud