K.P. Peterson
Biography
K.P. Peterson is a brand new author, hoping to rise to the upper-echelon of his sci-fi/fantasy inspirational authors such as J.R.R. Tolkien, J.K. Rowling, Jonathan Stroud, and Eric Nylund. He enjoys music, film, zombies, and video games. He currently resides in glorious Colorado, in the Mile High Metro-Denver area, in the United States.
Where to find K.P. Peterson online
Books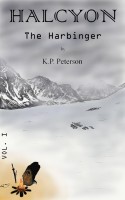 Halcyon: The Harbinger
by

K.P. Peterson
Two siblings must venture across the countryside to discover which of them is the proper heir to the Utopian Throne. If that wasn't hard enough, they have a week's time before a long-forgotten army invades their Kingdom due to the royal absence, and an assassin only known as The Harbinger, is out to stop them and their companions from achieving their goal.
K.P. Peterson's tag cloud