Michael Vaguely
Biography
I'm a 30 year old guy from Stoke on Trent in England. This is my first and only work but is like a window into my past and the good times I've shared with people. It is so good to document all of the random and funny stuff we used to come out with.

I'm into random funny things, listening to and making music, t-shirt designing and travelling and hoping to do much more of all in the future.
Books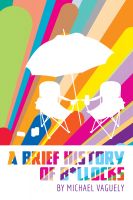 A Brief History of B*llocks
by

Michael Vaguely
Remember those mad nights out where you end up talking about the most random stuff, laugh yourself silly and wake up the next day trying to remember all of the crazy stuff you were talking about?! Well imagine if you could have had a dictaphone to record all of your inane ramblings to be typed up and edited afterwards. That's exactly what we did! This is the full transcripts of all those nights.
Michael Vaguely's tag cloud