Morgan Straughan Comnick
Biography
Educator of young minds by day, super nerdy savior of justice and cute things by night, Morgan Straughan Comnick has a love for turning the normal into something special without losing its essence. Morgan draws from real life experiences and her ongoing imagination to spark her writing. In her spare time, she enjoys doing goofy voices, traveling to new worlds by turning pages, humming child-like songs, and forcing people to smile with her "bubbliness." It is Morgan's mission in life to spread the amazement of otaku/Japanese culture to the world and to stop bullying; she knows everyone shines brightly.
Where to find Morgan Straughan Comnick online
Series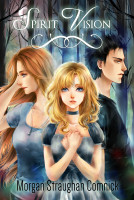 Spirit Vision
by

Morgan Straughan Comnick
Stary Moon has been chosen by God to be the new Spirit Warrior. With her new powers she must help keep the balance between good and evil in order and help spirits move on. All of this is a big enough responsibility, but add high school mix and being a teen has never been more exhausting!
Books
Morgan Straughan Comnick's tag cloud