Ramona Ortega-Liston
Biography
Biographical Sketch
Ramona Ortega-Liston

BETRAYAL & CONQUER: AN AMERICAN STORY OF COURAGE & RESILIENCE

Dr. Ramona Ortega is the daughter of Mexican migrants that immigrated to the United States in the 1930's seeking the American dream. After enduring years of physical and emotional hardship the family found the dreams they sought. This is the inspiring story of one of the nine children born to Maria and Blas Ortega who set out to pursue her own American dream. Her name is Ramona. Not letting stifling poverty stop her Ramona moved from Iowa to Arizona to pursue her dream of going to college and successfully earned an Associate of Arts degree from Scottsdale Community College (with highest distinction), a Bachelor of Science degree (magna cum laude) and a doctorate from Arizona State University (ASU). She earned a Masters from Harvard University and eventually became an associate professor at The University of Akron where she was named one of six "Women "Trailblazers." Ramona pursued other aspects of her American dream by volunteering for the Bush-Cheney Transition Team (2000-2001) later becoming a Co-Host for the Presidential Inaugural Committee Awards Luncheon "Leave No Child Behind." And, yes, Ramona danced with her husband at the inaugural ball!

Ramona has many years of public service to her credit. She was a Charter Member of the ASU Research Park Board of Directors and became a member of the Arizona Governor's Trade Delegation to Japan. She is the recipient of three presidential appointments having been appointed by the Reagan Administration to the Community Colleges of the Air Force Board of Visitors receiving the prestigious Air Force Award for Meritorious Civilian Service. Ramona was appointed by the George H. W. Bush Administration to the Army Command and General Staff College Advisory Board and to the National Advisory Committee on Student Financial Assistance. As director of the Unaccompanied Minors Shelter Care Program (UMSCP) Dr. Ortega received special recognition by the U.S. Office of the Inspector General for creating a model shelter for unaccompanied minors.

Dr. Ortega's interest in government began as a Scottsdale Community College student aide to Sandra Day O'Connor in 1975 later becoming deputy administrative assistant to Congressman John McCain (now U.S. Senator). She has been a dynamic speaker on Hispanic and women's issues at Harvard University, Radcliffe College and various women's clubs. She is a published author. Among her many research publications are articles describing and explaining the variables influencing public sector careers of Hispanics and women in higher education.
Books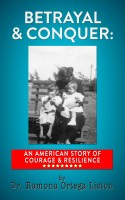 Betrayal & Conquer: An American Story of Courage & Resilience
by

Ramona Ortega-Liston
Only in America is this story possible. Ramona grew up poor in the Des Moines river bottoms planting fields and driving tractors at12. At 17 she suffered the stigma of unwed motherhood. This inspiring story follows Ramona's pursuit of her American dream—college, home ownership, raising a family, running for Congress, volunteering at the White House and dancing at presidential inaugural balls!
Ramona Ortega-Liston's tag cloud