Christian Schneider
Biography
Christian Schneider has spent time as a political columnist at USA Today, the Milwaukee Journal Sentinel, and National Review Online. His op-eds have been featured in The New York Times, Wall Street Journal, New York Post, City Journal magazine, Weekly Standard magazine, and National Review magazine. He has been a frequent guest on political television and radio shows, having appeared on CNN, MSNBC, and Headline News. He holds a Master's degree in political science from Marquette University and lives in Madison, Wisconsin.
Where to find Christian Schneider online
Books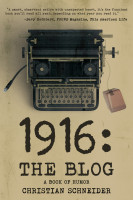 1916: The Blog
by

Christian Schneider
A lively and humorous novel of alternate history, "1916: The Blog" tells the story of Sebastian, a low-level newspaper typist who in 1916 comes into possession of a futuristic connectivity machine. When he discovers this new "internet," Sebastian runs into early 20th-Century scams, snake oil salesmen, medical quacks, dating websites, and trolls, all with hilarious consequences.
Christian Schneider's tag cloud