Courage Igene
Biography
From the age of twelve, Courage Igene has preached the undiluted gospel of Jesus Christ with signs & wonders and miracles following. Untold thousands have been saved and set free around the world through God using him remarkably in the Sign-Gift ministry.

He is the founder and president of Joshua Generation Ministries (JGM) which involves:

- Church Planting (All Nations House of Worship)
- JGM School of Ministry (Ministry Training)
- Nationwide Healing Rain Crusades
- Live Prophetic Telephone Prayer Conferences.

An accomplished author, Courage Igene has written other thought provoking, insightful and anointed books, namely: God's Weapons of Mass Destruction, Revelation & Relationship.

His passion for worship has been described by many as the secret to the tangible healing & prophetic anointing on his life. His joy, love for God and people is contagious. He may be coming to a city near you. You will love his ministry! And as he always say: "We shall see what we shall see in Jesus name!"
Books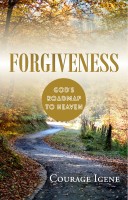 Forgiveness
by

Courage Igene
Courage Igene carefully lays out the importance of freeing yourself from the pain that keeps you bound. Living in unforgiveness is like drinking poison and waiting for someone else to die. If we must live a Holy Spirit led life here on earth and ensure that making Heaven is guaranteed, this book is constant reminder of how Forgiveness is God's roadmap to Heaven.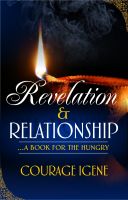 Revelation & Relationship: A Book For The Hungry
by

Courage Igene
The difference between your past and your future is your knowledge. Someone knows something you don't know. Never be afraid of the devil but be afraid of ignorance. It's the only reason people walk in error and perish (Hosea 4:6). This book is for the hungry and those who are sincerely tired of the harassment of the enemy.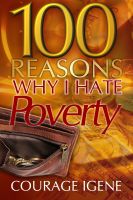 100 Reasons Why I Hate Poverty
by

Courage Igene
Poverty is not just a lack of finances but a mindset designed by hell to frustrate and terminate God's plan and purpose on the earth. This is a must-have book for everyone who hates financial captivity and sincerely desires to see God's people spiritually and financially blessed beyond measure.
Courage Igene's tag cloud