Mick Goode
Biography
The problem with auto biographies, from the view of a modest man, is what he deems unimportant becomes the single point everyone fixates. A quiet man growing up on the fringes of societal norms, Mick Goode has always tried to face life with the cards the Fates dealt; at this point he has fought them to a draw. A displaced middle-aged Cajun-mix who grew up thirty miles off both the Third coast and the Texas border, Mick now lives in Michigan, where he tries to bring sanity to uppity Yankees, herds drunks, and catch up the semmingly twenty-odd years he is behind the times.
Where to buy in print
Books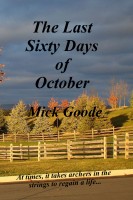 The Last Sixty Days of October
by

Mick Goode
For the past 20 years, Ken Granger bailed his friends out of everything. Now Ken is torn between saving his friends and having a life.Can he drain the pool and start to have a life of his own? Will his friends all grow up, start acting like adults, and finally pay him back by letting him have a life? At least twenty-one futures hang in the balance...
Mick Goode's tag cloud