Jeneane Kendall
Biography
Jeneane Kendall was born in Tucson, Arizona and still lives there with her family. Her youngest daughter, loves to play Minecraft and not clean her room. Jeneane has two dogs, Max a lab who always wants to play tug o' war, Odie a basset hound who sleeps 20 hours a day, and Dexter the cat who always wants to attack your feet. Jeneane loves reading books from the fantasy genre, but enjoys writing children's non-fiction books. She gets a lot of her inspiration from the day to day activities and making up silly stories with her daughter and husband.
Where to find Jeneane Kendall online
Books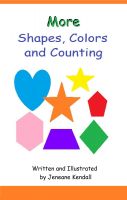 More Shapes, Colors and Counting
More Shapes, Colors and Counting is the second book in this series. There are different shapes, colors and also counting up to twenty. Kids will enjoy finding the colored shapes in this fun book.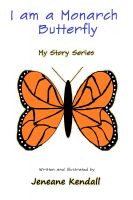 I am a Monarch Butterfly
A Monarch butterfly tells her life story from a small egg, to caterpillar, through chrysalis, to a butterfly and lastly migration. Great illustrations compliment this enjoyable story.
Jeneane Kendall's tag cloud