Jillayne Arena
Biography
Jillayne Arena has a master's degree from the University of Pennsylvania and a bachelor's degree from the University of Wisconsin-Madison. She makes her home with her husband and wishes her grown children were closer. Each day has been a gift of the ironies and absurdities one can only see with a survivor's eyes. She has taught college level Management classes, coached a middle school forensics team to a State championship, rehabbed a Frank Lloyd Wright house, found relatives back to the 1700's, and run a hot dog stand to benefit high school athletics. She has sewn dozens of quilts and her daughter's wedding dress, nursed her parents, buried dead birds, written Letters to the Editor, campaigned for politicians promising better health care, knocked together flat pack furniture, and grown some pretty amazing geraniums. She prays for those who read her book that they might step back.
Books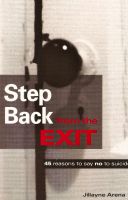 Step Back from the Exit: 45 reasons to say no to suicide
by

Jillayne Arena
When someone can't imagine one reason to say no to suicide, this book offers 45. Arising from the author's struggle with suicidal thoughts, these wide-ranging short essays acknowledge the depth of pain that brings people to consider suicide yet it asks the reader to wait. The format is easy to read; the text is intelligent, ironic, insightful and fitting to a short attention span.
Jillayne Arena's tag cloud