Jim Fitzgerald
Biography
After high school, the author dabbled in boxing (NYC Golden Gloves), joined the Marines, fought in Korea, built auto and truck tires and started a family, received an engineering degree, supervised tire and then food production, moved up the ladder, plant manager, general manager, division president. Dropped out when his children finished college. Sailed his 40 foot ketch to Europe and peeled back layers of history in the Mediterranean for years, before realizing the young comrades lost in the "Forgotten War" deserved a true accounting of the events and people that caused the waste of so many young lives.
In The China Hoax, the author offers the perspective of an eyewitness to history, having fought Mao's Red Chinese alongside comrades who were on the ground a few years earlier, during China's struggles and agonies.
Books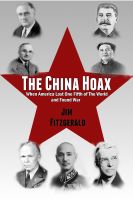 The China Hoax
by

Jim Fitzgerald
Price:
$4.95 USD.
Words: 94,600.
Language: English.
Published: September 13, 2012
. Categories:
Nonfiction
»
History
»
Asian
If 50 million deaths qualify Mao Zedong to be the world's most murderous despot, the myth of U.S opposition to Mao ranks as the greatest cover-up. "Hoax" describes and documents the heroes, villains, deceivers and dupes involved in a great betrayal that subjugated one fifth of the world's population and killed 34,000 americans. The author fought Mao's forces in asia. He offers truth vs. fiction.
Jim Fitzgerald's tag cloud