Kunzang Choden
Biography
The author Künzang Choden was born in Bumthang, central Bhutan in the year of the dragon (1952). It was during her childhood that Bhutan had opted to shed its self-imposed isolation for modernization and socioeconomic development. Several years later, it was the author's interest in folklore, and her concern that much of her country's cultural heritage would be lost in this transitional period, that motivated her to compile the folktales of this remote Himalayan kingdom. She is the first writer to chronicle her country's oral tradition in English. The Yeti in Bhutan is her second book. She has also authored Folktales of Bhutan, which was published in 1994 by White Lotus.
Where to buy in print
Books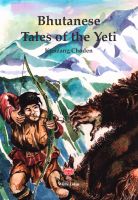 Bhutanese Tales of the Yeti
by

Kunzang Choden
Bhutanese Tales of the Yeti is a collection of twenty-two stories set in four different regions of Bhutan. The presence of the yeti is ubiquitous to the kingdoms of the Himalayas, where beliefs and attitudes related to it go beyond scientific judgment and analysis. The Bhutanese consider the yeti, or the migoi, to be an essential part of the backdrop of their existence.
Kunzang Choden's tag cloud