Mark Walia
Biography
Mark Walia is a professor at California State University, Fullerton, teaching both ancient and modern world history. From time-to-time, he also offers a unique course on radical Islam at Laguna College of Art and Design in Laguna Beach, CA, as well as a class on Western Civilization from the sixteenth century to the present day. Mark holds a B.A. in English language and literature from the University of Michigan, where he first developed a fascination with Islam and its distinctive view of human existence, an M.A. in European history from Wayne State University in Detroit, and a Ph. D. in religious history from the University of California, Riverside. His current research focus and the topic of a future book is the transformation of American youth in the twenty-first century. This work will examine and assess the profound changes taking place in the lives of young people as a consequence of instantaneous communication technology, an unparalleled level of personal freedom, and the larger society's stress on diversity, tolerance, and multiculturalism.
Where to buy in print
Books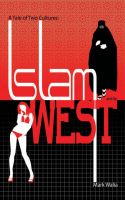 A Tale Of Two Cultures: Islam and the West
by

Mark Walia
Mark Walia's A Tale of Two Cultures: Islam And The West lays out the contrasts between the Western and Islamic worlds with remarkable clarity and documentation, and concludes there are nearly irreconcilable differences between these worlds.
Mark Walia's tag cloud