Patricia Hopkinson
Biography
Patricia Knowles was born in a New York taxi cab in March 1938. By her third year, the bewildered child found herself plunged into a dysfunctional household dominated by a self-absorbed, demon-driven father. William was cerebral and volatile, an inventor – one week a bankrupt, the next a millionaire. Little Patricia was sent to live with Grandma Knowles in Fort Worth. At nine, she was joined by Daddy and his new wife. Pat became the default target for the man's rages. The bullied daughter soon retreated into a world of her own design: drawing and painting.
By 1956, her portraiture portfolio earned Patricia an art scholarship to Southern Methodist University. Hired as an illustrator by a Dallas advertising agency, "Miss Pat" was introduced one day to a handsome petroleum engineer from Scotland, in Texas on business. John Hopkinson's exotic brogue and charming manner dazzled the lass, and they married two weeks later. The couple left for Britain on December 1, 1958. Three years and two sons later, the Hopkinson family fled the ruinous taxation policies of England for a lucrative posting in the oil fields of Iraq. The next amazing decade transformed Patricia Hopkinson from a naïve li'l Texas gal into a leading player in the region's expatriate community. Miss Pat's nine-year journey comprises her memoir, Portraits in the Sand.
Books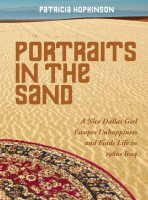 Portraits in the Sand: A Nice Dallas Girl Escapes Unhappiness and Finds Life in 1960s Iraq
by

Patricia Hopkinson
A BOAC night flight from London sets down one midnight in Baghdad, Iraq; the doors are flung open, and before passengers can alight, reality wafts in. Thus opens the next chapter in the young author's breathlessly lived escape to womanhood. Readers come away informed, moved, and wanting more.
Patricia Hopkinson's tag cloud