Pradeep Kumar Panda
Biography
Born 23 rd September, 1960, Pradeep Kumar Panda has academic qualification of M.A (economics) and lives in the city of Cuttack in the Indian state of Odisha. He has been associated as a writer-editor in the publishing of newspapers, periodicals and books and has written several essays to his credit. Besides, Mr Panda is a translator and grant writer. The short stories in this collection are his maiden published work of the type.
Books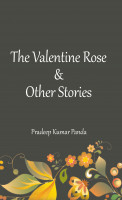 The Valentine Rose & Other Stories
by

Pradeep Kumar Panda
This album of eleven short stories tries to portray true to life situations in the current milieu. The writer has used his creative prowess in building them basing on his observation of social complexities. Written in lucid style the satirical undertone in these stories can be well perceived by the reader who may find the latter both musing and amusing.
Pradeep Kumar Panda's tag cloud