Sara Simms Productions
Sara Simms captivates the world as an innovative DJ, turntablist and electronic music producer. She's a multi-instrumentalist who is known for her love of music technology.

Sara's unique blend of EDM has rocked audiences around the world; she has recently toured through North America, Japan, and Europe. Her DJ career began in Toronto, where she held residencies at clubs like This Is London and The Courthouse. She has an intriguing background as a turntablist; she's competed in DJ battles in both Canada and Miami, and was a runner in up the 'Scratch' – The Ultimate DJ Contest. Sara has worked together with legendary brands like Dior, M.A.C. Cosmetics, Victoria's Secret and Guess Jeans.

Sara is a DJ who's focused on bringing crowds the best electronica whether she's playing at a festival alongside her dancers or performing at a club. As an artist who stays on the cutting edge of digital DJing technologies, Sara works together with brands like Pioneer DJ, Genelec, Native Instruments, Moog Music Inc., Mixed in Key, Vestax, Analogue Solutions, Crane Hardware and 12 Inch Skinz to help them promote their products. She's the founder of Sara Simms Productions and the co-creator of The Future Prophecy, a new graphic novel and concept album series that features DJs as superheroes and villains.

Sara's career highlights include: opening for the Friendly Fires in Cannes, France, appearing on DJ QBert's 'Skratch University', a US tour with Melleefresh (Play Records), judging the Canadian DMC Championships, playing at AIR (Tokyo) and performing at Pride Toronto. She has graced the stage alongside DMC World Champion DJ QBert, DJ Rafik, DJ Shortee, Japan Redbull Thre3Style Champion DJ Iku, Karl Wolf, Keisha Chante, Lights and Shad.
Introducing The Future Prophecy
The Future Prophecy is a graphic novel and concept album series featuring DJs as superheroes and villains. Each issue of the series will be accompanied by a musical track composed by the story's characters.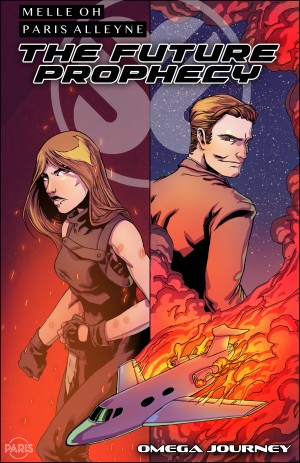 The Future Prophecy - Omega Journey
by

Sara Simms Productions
The dystopian city of Toronto has fallen to Bogtown Records. Savion Simms embarks on a dangerous mission that turns ominous when Gui Guillotine arrives on the scene. Sara Simms, the only DJ who can carry out her husband's plan to save the city has mysteriously disappeared. Melle Oh races to track down her missing sister before Bogtown's mutant CACU army bombs their studio location to smithereens!