Stuart Channel Publishing
Publisher info
ERIC N. FOSTER was born in England near Newcastle-On-Tyne in 1933. He was sent to Canada in 1941 to Fairbridge Farm School near Duncan, B.C. on Vancouver Island. As a boy he developed a keen interest in nature and people which he enlarged while studying at the University of British Columbia in Vancouver. Some of his work in this volume such as The Winter Maple, Sunset Over Active Pass and Visiting Fisherman's Wharf are imaginary and descriptive while nearly all of the other pieces are based upon personal experiences or upon the real life experiences of others. At the present time the author lives in Saltair, near Ladysmith on Vancouver Island.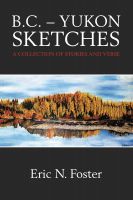 B.C. – Yukon Sketches: A Collection of Stories and Verse
In B.C. - Yukon Sketches, Eric N. Foster explores two landscapes: the outer landscape of the small working towns of lumbering, mining, and farming as they were fifty to sixty years ago; and the inner landscape of a young man searching for a meaningful maturity for himself through working and talking with others as he meets them.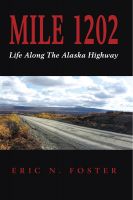 MILE 1202: Life Along The Alaska Highway
Life in a small isolated town set in the spectacular panorama of the Yukon, delivered with detailed, factual incisiveness.
Stuart Channel Publishing's tag cloud